Bridges Worth Knowing
A leading historian of technology picks ten lesser known bridges that deserve to be better known.
By:
Unlike buildings, which typically have their structural skeleton cloaked in an architectural façade, most bridges let it all hang out. What you see is all that a bridge has to hold it up. Bridges show their engineering like no other technological artifact does. The structure is the architecture.
Bridges are also numerous, with about 600,000 of them in the U.S. alone. Some are more than a century old. The American Society of Civil Engineers gives special recognition to those bridges and other projects that are at least fifty years old and that have some special uniqueness: A National Historic Civil Engineering Landmark might be the oldest or best surviving example of its type, or it might represent the use of some innovative design or construction technique.  In all cases a landmark must have been of national significance, or at least have contributed to the development of some large region of the country.
Some historic civil engineering landmarks, such as the Brooklyn and Golden Gate bridges, are so well known they need no introduction. Lesser known ones deserve to be better known, and ten of these are profiled in this article.
Half of these are stone and concrete bridges; half are steel.  For millennia, stone and timber were the basic ingredients of bridge building. Choosing between the two has always involved considerations of availability of materials and labor, speed of construction, intended lifetime, and cost. These same factors remain considerations in any building project today.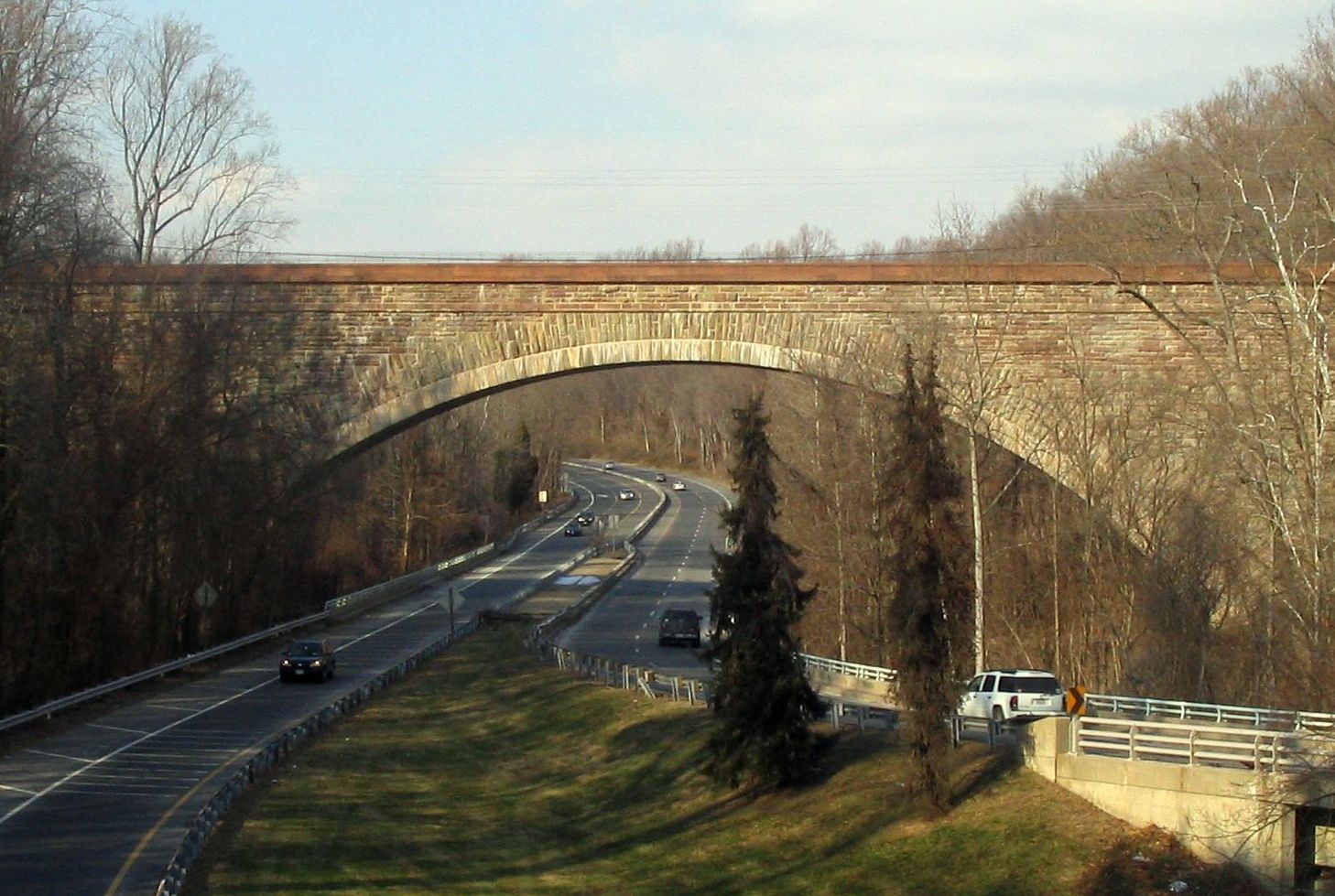 Timber bridges were naturally subject to being destroyed by fire and decay, which meant that such bridges had regularly to be rebuilt. Stone bridges are obviously more permanent, as demonstrated by Roman aqueducts.  Maryland's Cabin John Aqueduct is an example of nineteenth-century stone construction. For forty years it held the record for being the longest spanning stone arch in the world.
The Romans also used concrete, which has been referred to as "artificial stone," in construction.  Concrete reinforced with iron and, later, steel to reduce the occurrence of cracking was introduced in the nineteenth century. The Alvord Lake Bridge discussed below is the oldest example of such construction in the U.S.
Bridges built in unusual environments can call for unusual designs. The Bailey Island Bridge is located on the Maine coast, where tides are high, currents swift, ice floes heavy, and the salt water corrosive. Neither concrete nor steel can survive long in such conditions, so the state's bridge engineer, Llewelyn Edwards, made the bridge out of split granite assembled in a cribwork that allows the water the move freely through the durable structure. It is a stone bridge of the twentieth century.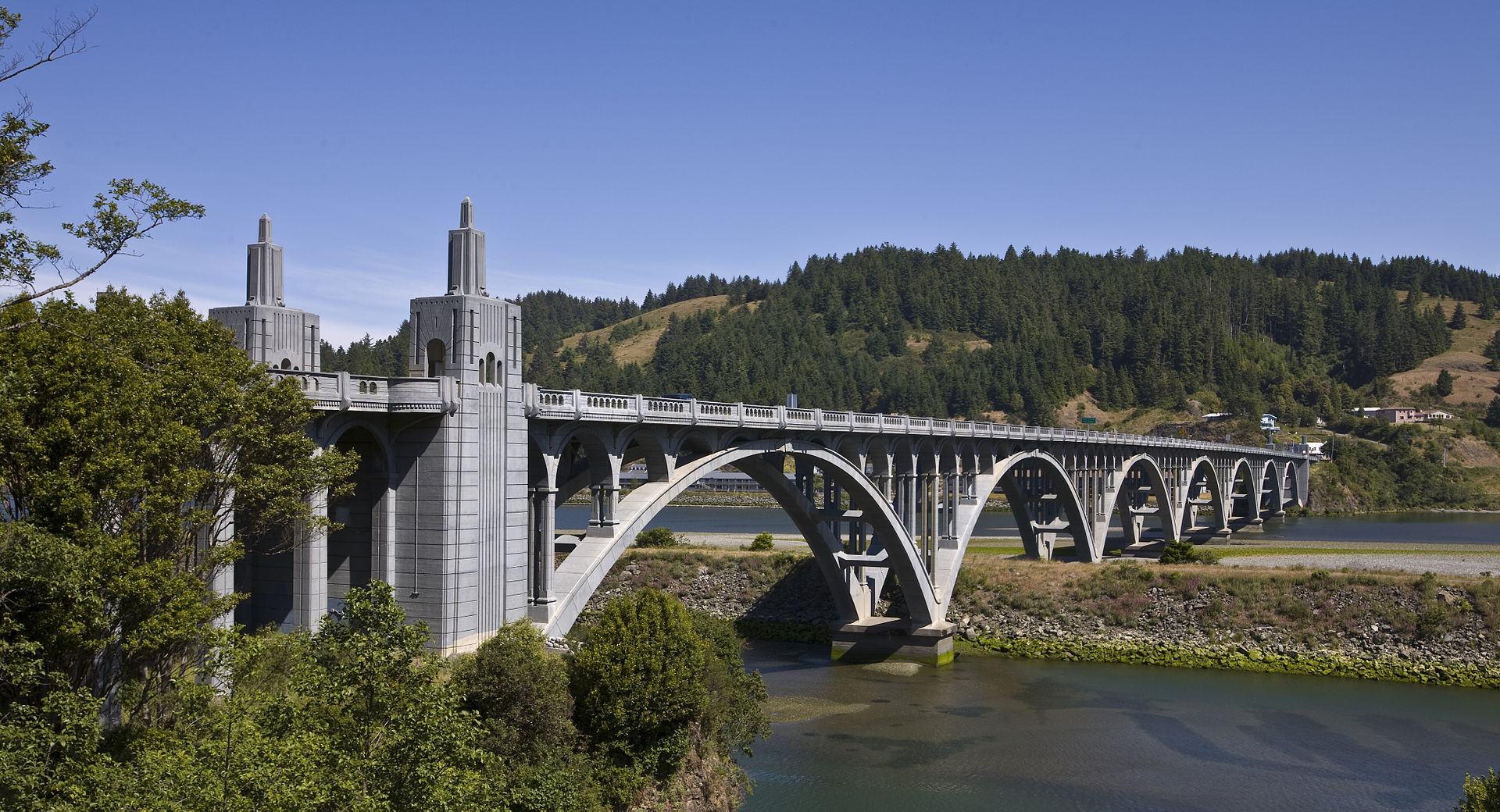 Another state bridge engineer, Conde McCullough, designed exquisite bridges for the Oregon Coast Highway. One of these, the Rogue River Bridge, is not only a series of light and graceful arches; it also represents the first use in the U.S. of the French technique of putting concrete into compression during the construction process so that when the structure is loaded it will better resist cracking.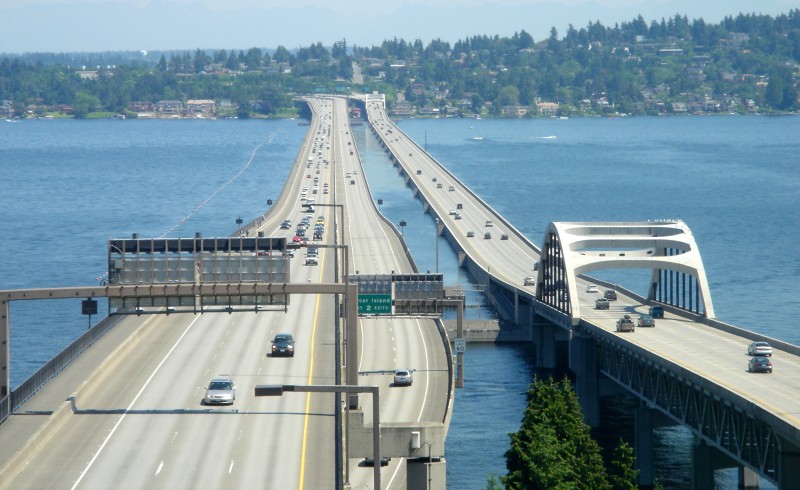 Most bridges touch the water only at their piers, but some actually sit in the water. Seattle is famous for its floating  bridges, and the Lacey V. Murrow Bridge is unique for being the first floating bridge anywhere to be made of concrete. Just as heavy steel formed into a ship hull will float, so will heavy concrete formed into a hollow box. The Murrow Bridge is a string of very large concrete boxes with a roadway running atop them.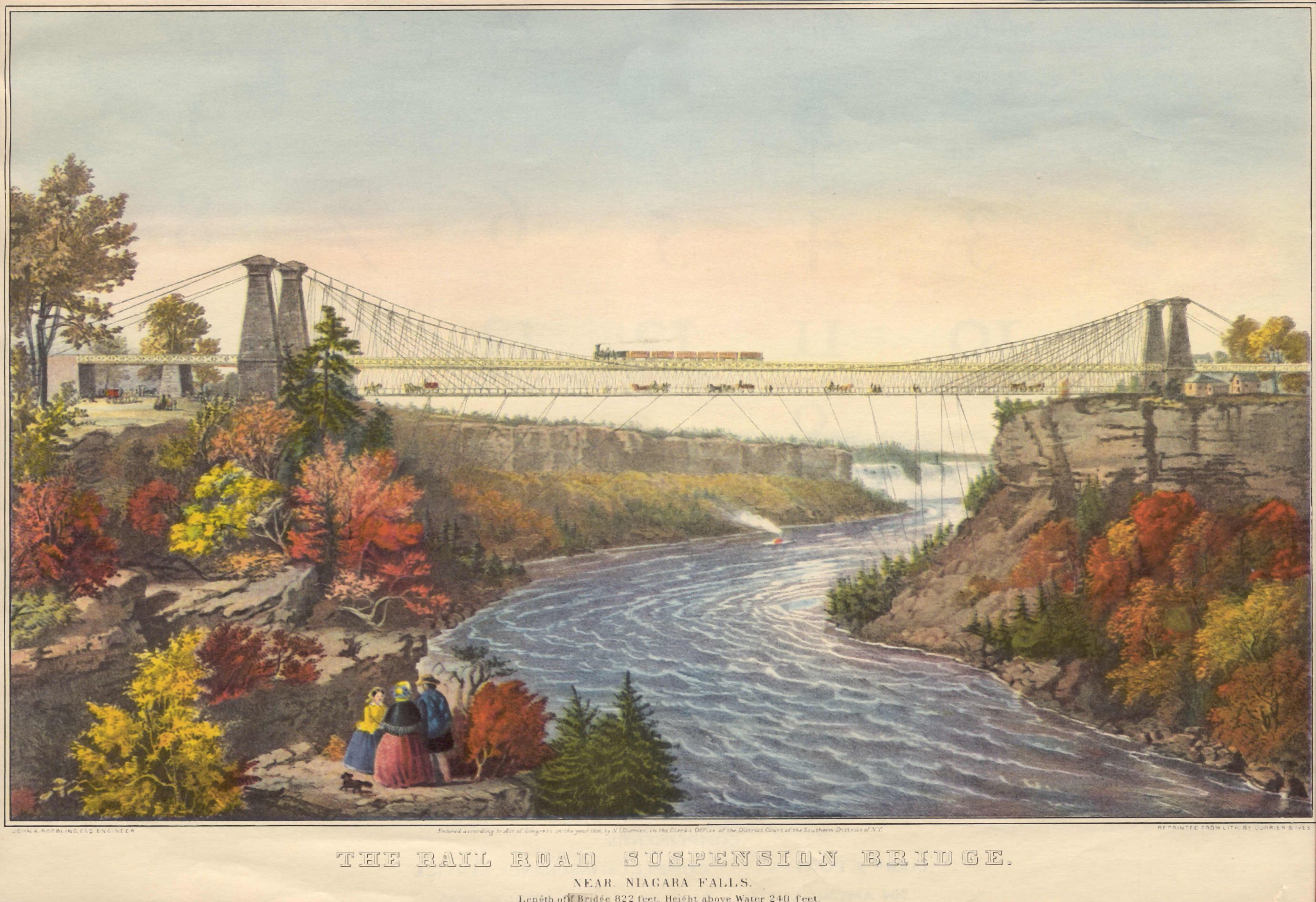 The first iron bridge was built in 1779, and by the nineteenth century iron was used for all kinds of bridges. The Niagara Gorge was a challenging location to build a bridge of any type, but it was also a strategic location where railroads crossed between the U.S. and Canada. Even though no longer standing, several bridges of Niagara were recognized as historic civil engineering landmarks because of their innovation and importance. Among these is the 1854 suspension bridge designed by John Roebling, whose crowning achievement would be the Brooklyn Bridge. Roebling's Niagara structure was the first suspension bridge to carry railroad trains.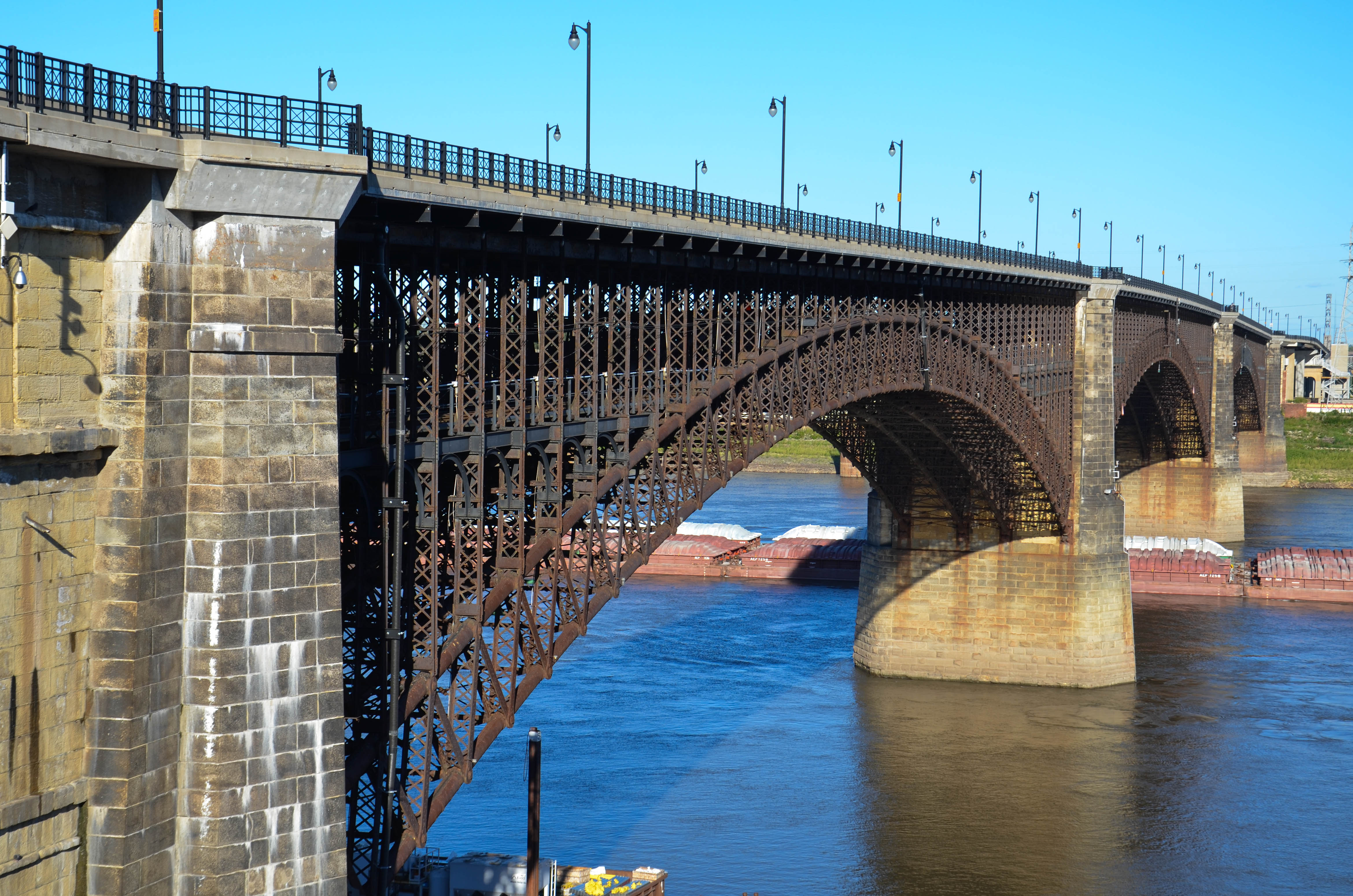 The Eads Bridge across the Mississippi at St. Louis saved that city from losing out to Chicago as a railroad portal to the West. This record-setting arch bridge was the first to use steel in a structurally critical way. It is also significant in being among the few bridges in the country named for its engineer.
The Poughkeepsie-Highland Railroad Bridge was a great achievement when it was constructed, not only because of the difficulty of setting foundations in the bottom of the tidal Hudson River but also because of its use of the new method of cantilever construction. This technique eliminated the need to erect massive scaffolding in the river in order to assemble the steel trusswork of the high-level bridge. The bridge sat in disuse for decades before it was converted into a pedestrian walkway that provides spectacular views up and down the river valley.
The Waldo-Hancock Suspension Bridge was a striking example of its form. It was designed by the engineer David Steinman, who incorporated several unusual features into it. The main suspension cables were made up of preformed strands, which saved construction time, and the towers were designed with strong vertical and horizontal lines rather than the familiar X-bracing of previous bridge towers. Unfortunately, this bridge suffered from corrosion and was recently replaced with a striking cable-stayed bridge that has the unusual feature of an observatory in one of its towers.
Finally, the San Francisco—Oakland Bay Bridge is very familiar to area residents, but it is not as widely known nationally as is its across-the-bay contemporary, the Golden Gate Bridge. In fact, pictures of the Bay Bridge have been known to be identified as the Golden Gate. But the Bay Bridge presented unique challenges to its engineers, which they overcame with unique solutions, including a tandem pair of suspension bridges sharing a record-setting deep central anchorage and a record-setting tunnel connecting them to the East Bay spans of the crossing. The Bay Bridge will likely become more widely known in its own right when a replacement East Bay span is completed soon. It will contain a suspension bridge with a single tower and its cables will be self-anchoring. The new structure will no doubt be a strong contender for national historic civil engineering landmark status in fifty years.  
All