His Inspiration Broke Barriers
African-American inventor Lewis Latimer helped Bell, Edison, and Maxim, and later patented many of his own inventions.
Inventor: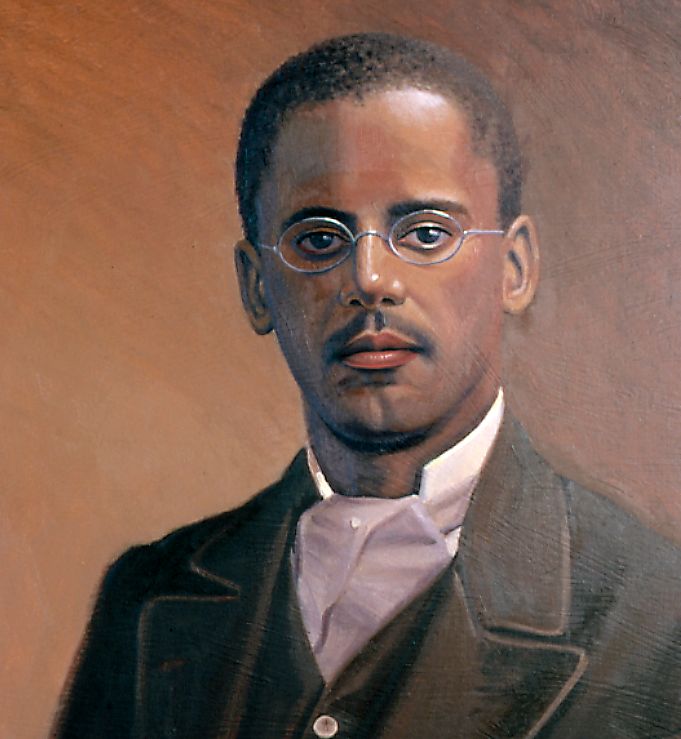 Lewis Howard Latimer (1848-1928) was lucky. He achieved the light bulb breakthrough that allowed the manufacture of carbon filaments for Thomas Alva Edison's incandescent bulb. Beginning a career as a patent illustrator, Latimer executed drawings for Alexander Graham Bell and for Edison; Latimer, a pioneer, became an early builder of the electric light industry, and he was famed as the developer of long-lasting carbon filaments.
Born in Chelsea, Massachusetts, on September 4, 1848, to fugitive slave parents, George and Rebecca Latimer, who had fled Norfolk, Virginia, on October 4, 1842, Lewis Howard Latimer was the youngest of four children. The police arrested his father in Boston four days after his arrival when his owner appeared before authorities demanding imprisonment for George until he was returned to slavery.
News of the arrest spread, and abolitionists such as William Lloyd Garrison and Frederick Douglass supported the call for Latimer's release and raised $400 to purchase George's freedom. Latimer's case was "the first of several famous Boston fugitive-slave cases," which resulted in the passage of a Massachusetts law "forbidding state officers from participating in hunting for fugitive slaves," wrote Louis Haber in Black Pioneers of Science and Invention.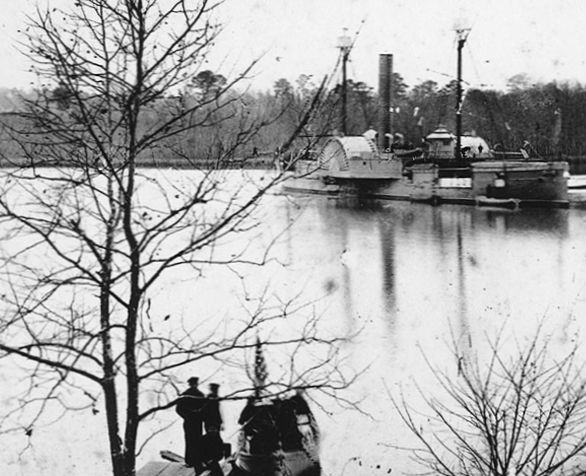 At age sixteen, Latimer enlisted in the Union navy in 1864 and served as landsman aboard the side-wheel gunboat U.S.S. Massasoit. which was part of the North Atlantic Blockading Squadron.
After the vessel returned to Boston in 1865, he received an honorable discharge. While he looking for work, Latimer happened upon a young black woman who had been asked to suggest a "colored boy" as a helper in the office of solicitors Crosby and Gould. They needed an office boy with a "taste for drawing." The firm of Crosby and Gould was a noted patent law establishment in Boston that hired a corps of drafters to design patent drawings.
Latimer taught himself drafting and requested permission to do some drawings. His employers reluctantly acquiesced and then discovered an outstanding talent. Eventually Latimer rose to the position of chief draftsman. His work was well respected, and he remained at the firm for eleven years. In later years, the firm was renamed Crosby and Gregory and was located near the school where Alexander Graham Bell was teaching and experimenting on his telephone.
In January 1874, apparently influenced by his office specialty and showing his ingenuity, Latimer, with coinventor Charles W. Brown of Salem, filed a patent application at the U.S. Patent Office in Washington, D.C., for an improvement in water closets (toilets) f railroad cars, and received the patent the following month on Feb 10. They modified the standard water closet by providing a pivo bottom to the hopper that was automatically opened and closed by closing and raising the seat cover, respectively. Crosby and Gould, might be expected, were their patent attorneys.
Latimer met Bell and became good friends. "When Bell learned that Latimer was a draftsman, he asked Latimer to draw up the plans for his telephone invention, writes Glennette Turner in Lewis HI l• Latimer. Bell began work on the telephone in September 1875. Latimer assisted Bell in preparing the patent application and also helped him with various drawings. Bell's patent was issued on Mardi 7, 1876.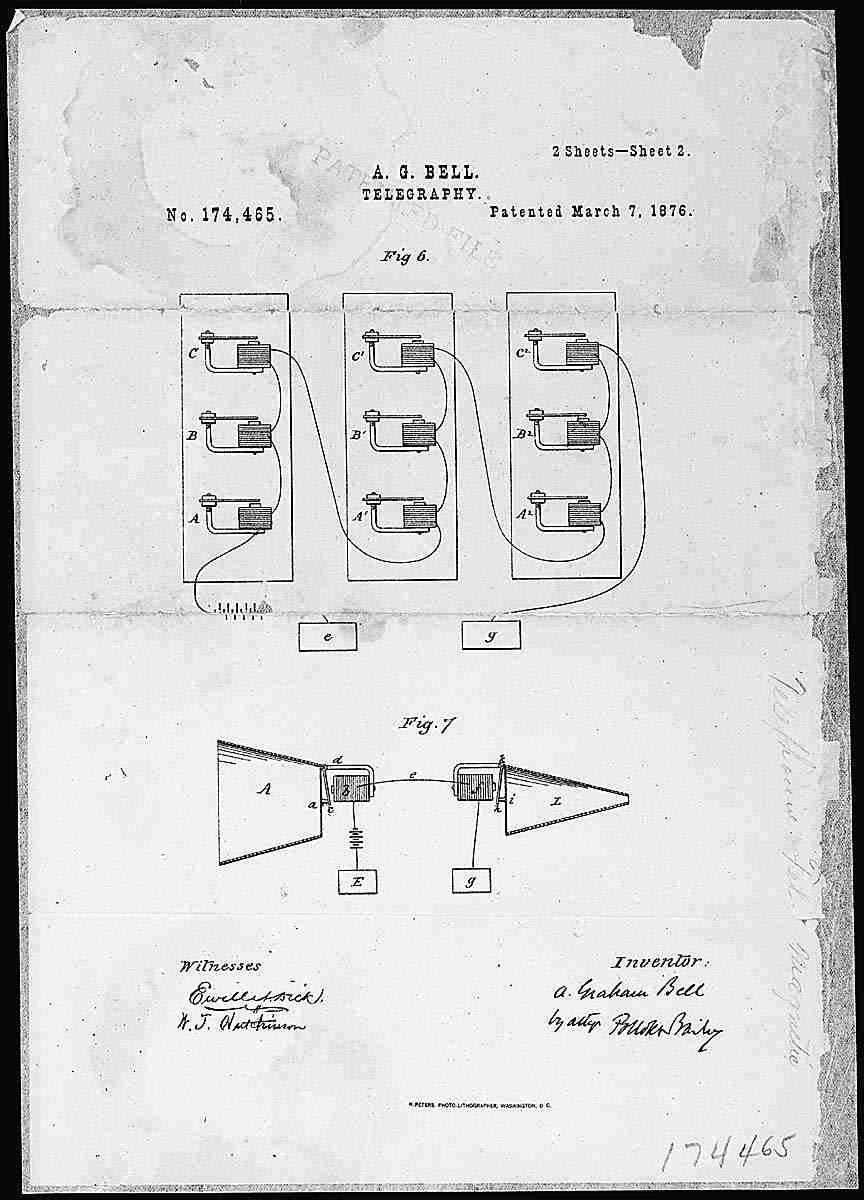 In 1880, Latimer, now living in Bridgeport, Connecticut, near a sister, began to work as a draftsman for the United States Electric Lighting Company under chief engineer and founder Hiram Maxim, who was impressed with Latimer's ability. Here Latimer was introduced to the emerging technology of electric light and learned of the genius of Thomas Edison, who had invented the incandescent carbon-filament electric lamp in 1879, which was patented on January 27, 1880. Maxim. Edison, and other upstart electric companies competed for solving the problem of providing a long-lasting filament. Latimer, who had moved to New York City, teamed with Joseph V. Nichols of Brooklyn and filed an application for an electric lamp in 1881. They received a patent for producing "incandescence of a continuous strip of carbon secured to metallic wires" attached to the electric lamp base on September 13 of the same year.
Six days before the 1881 patent was issued, Latimer, alone, filed an application for the breakthrough patent on a process of manufacturing carbon filaments. Latimer formulated a process of carbonizing material by enclosing it between cardboard, rather than the standard material. tissue paper or cloth. The cardboard expanded at high temperatures at the same time as the carbonizing material, thereby producing an exceptional filament that had an extended life.
The patent was issued on January 17, 1882, and was assigned to the United States Elec Lighting Company. Interestingly, inventor Joseph Nichols was listed on the patent as one of his witnesses, and Parker W. Page was his nevi patent attorney. Latimer was still employed by Maxim, so the carbon filaments were initially used in Maxim's lamp. Several months later is 1882, Latimer and another inventor, John Tregoning of Philadelphia_ patented a globe supporter for electric lamps, assigned also to Maxim's company.
After installing some new lamps in various facilities in New York and Philadelphia, Maxim sent Latimer to Canada and to London to teach and supervise the innovative method. After Latimer returned to America, he left Maxim and went to work for the Brooklyn company Olm-stead Electric, then moved to Acme Electric Light Company of New York City, where he made the Latimer Lamp. The company folded, and Latimer then became a draftsman and general assistant with the Imperial Electric Light Company. However, by 1884, he was working for the Thomas Alva Edison Electric Light Company as an engineer, chief draftsman, and expert witness on the Board of Patent Control, a position critical to determine the outcome of patent lawsuits among competitors. Latimer was a distinguished member of the Edison Pioneers and wrote the definitive book on incandescent electric lighting in 1890.
Latimer was a Renaissance man—draftsman, engineer, expert technical witness, author, poet, and inventor of unusual creativity. In 1886, he turned his inventive ability away from electric lamps to patenting an apparatus for cooling, deodorizing, and disinfecting rooms and other areas. In 1896, he received a patent on a locking rack for hats, coats, umbrellas, canes, and the like, and in 1905, he patented a book supporter.
Latimer died on December 11, 1928, after an esteemed, illustrious career. The Edison Pioneers, the scientific team that helped Edison in his pioneering work, mourned his passing and paid tribute to Latimer, the only African American in the organization. A Brooklyn, New York, public school was named for him on May 10, 1968.
All