His Inspiration Broke Barriers
The son of fugitive slaves and the only African American member of the prestigious Edison Pioneers, inventor Lewis Latimer made indispensable contributions to the field of electric light. 
Inventor:
Era: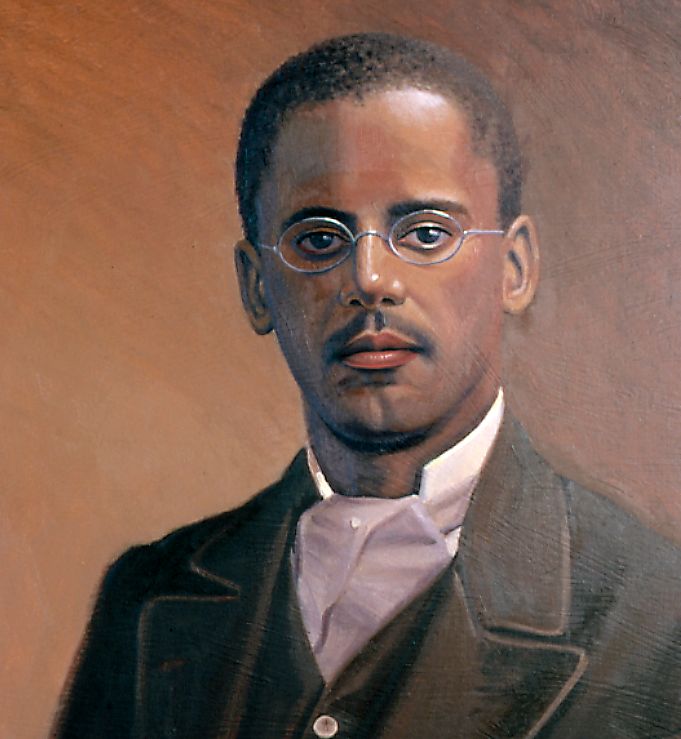 In the history of modern electricity, the names of the fathers of the field—including Alexander Graham Bell and Thomas Edison—are almost as household as the technology itself. Bell, a Scottish-born engineer, is widely known for harnessing electricity to create the telephone, while Edison, long considered America's greatest inventor, is credited with designing and producing the first electric light bulb.  
But there were others who made equally important contributions to these areas, yet remain lesser known to the public. One such figure is Lewis Howard Latimer, an African American inventor, military veteran, and son of fugitive slaves who not only worked closely with both Bell and Edison, but played an essential role in making electric light more affordable and accessible to the general public.
Born in Chelsea, Massachusetts, on September 4, 1848, Latimer was the youngest of four children. His parents, George and Rebecca Latimer, were both fugitive slaves who had fled Norfolk, Virginia, a few years earlier. For Latimer's father, his escape from human bondage wasn't easy: just four days after his arrival in Boston, he was arrested by police working on behalf of his owner, who demanded that he be imprisoned until he was returned to slavery.
Latimer not only worked closely with both Bell and Edison, but played an essential role in making electric light more affordable and accessible to the general public.
News of George's arrest spread, and abolitionists such as William Lloyd Garrison and Frederick Douglass supported the call for his release. Together they raised $400 to purchase his freedom, and Latimer's name became well-known. Louis Haber, writing in Black Pioneers of Science and Invention, remarked that Latimer was "the first of several famous Boston fugitive-slave cases," which resulted in the passage of a Massachusetts law "forbidding state officers from participating in hunting for fugitive slaves."
When young Lewis Latimer turned 16, he enlisted in the Union Navy in 1864 and served as landsman aboard the side-wheel gunboat U.S.S. Massasoit, which was part of the North Atlantic Blockading Squadron. The boat returned to Boston in 1865 and Latimer, having recieved an honorable discharge, went looking for work. One day he happened upon a young black woman who had been asked to suggest a "colored boy" with a "taste for drawing" as a helper in the office of solicitors Crosby and Gould, a noted patent law establishment that hired a corps of drafters to design patent drawings.
As a new recruit, Latimer progressed quickly. He taught himself drafting, and eventually requested permission from his bosses to do some drawings. His employers reluctantly acquiesced—and discovered an outstanding talent. Eventually Latimer rose to the position of chief draftsman, garnering respect for his work and remaining at the firm for eleven years.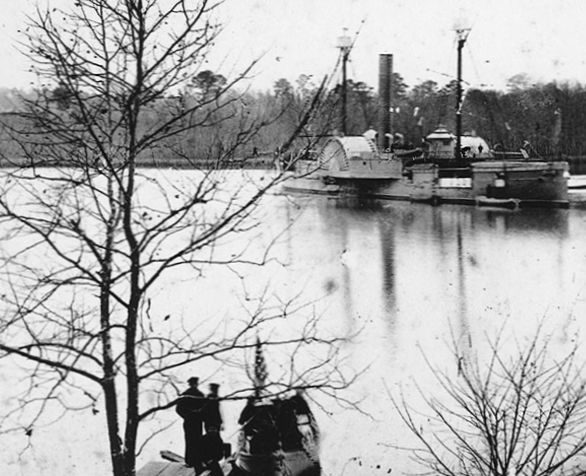 As it happened, Crosby and Gould—later renamed Crosby and Gregory—was located near the school where Alexander Graham Bell had been teaching and experimenting with electricity and sound. Latimer eventually met Bell, and the two became good friends. "When Bell learned that Latimer was a draftsman, he asked Latimer to draw up the plans for his telephone invention," wrote Glennette Turner in her biography of the inventor, Lewis Howard Latimer. Latimer made various drawings for Bell and in 1875 helped him prepare his patent, published a year later. 
In 1880, after assisting Bell, Latimer moved to Connecticut near one of his sisters and began work as a draftsman for the United States Electric Lighting Company, serving under chief engineer and founder Hiram Maxim. Here Latimer was introduced to the emerging technology of electric light and learned of the genius of Thomas Edison, Maxim's primary competitor, who had invented the incandescent carbon-filament electric lamp in 1879. The technology was revolutionary, but in its earlier stages was limited: because the electrified filament at the heart of Edison's light bulb was made of paper, it burned out quickly. Maxim, Edison, and other upstart electric companies competed with each other over improvements to the design, and specifically over coming up with a longer-lasting, more affordable filament for widespread consumer use.
Latimer was a Renaissance man—draftsman, engineer, expert technical witness, author, poet, and inventor of unusual creativity.
Latimer, who by then had moved to New York City, was the one to solve to problem. In 1881, he and fellow engineer Joseph V. Nicolas received a patent for a breakthrough new filament, described as an "incandescence of a continuous strip of carbon secured to metallic wires." Specifically, Latimer formulated a process of carbonizing material by enclosing it between cardboard, rather than the standard material of tissue paper or cloth. The cardboard expanded at high temperatures, keeping the filament intact and greatly extending its life. Latimer also patented a new way of manufacturing the filaments, making them cheaper to produce.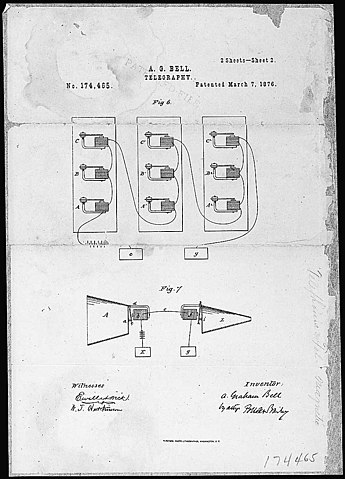 Together, Latimer's improvements allowed electric light to become widely available and accessible to the public. Still working for Maxim, he helped supervise the installation of the company's new lamps throughout several major cities, including New York, Philadelphia, and London. He then went to work for Edison's Electric Light Company, where he served as distinguished member—and the only African American one—of the Edison Pioneers, the prestigious group founded to carry on the inventor's legacy. In 1890, he wrote the definitive book on incandescent electric lighting, titled "Incandescent Electric Lighting: A Practical Description of the Edison System."
Latimer was a Renaissance man—draftsman, engineer, expert technical witness, author, poet, and inventor of unusual creativity. In 1886, he turned his inventive ability away from electric lamps to patenting an apparatus for cooling, deodorizing, and disinfecting rooms and other areas. In 1896, he received a patent on a locking rack for hats, coats, umbrellas, canes, and the like, and in 1905, he patented a book supporter.
Latimer died on December 11, 1928, after an esteemed, illustrious career. The Edison Pioneers, the scientific team of which he was a member, mourned his passing and paid tribute to him. In 1968, New York City officials renamed P.S. 56, a public school in Brooklyn, in his honor. While he still may not be remembered as well as Bell or Edison, his unique legacy shines just as bright in the homes, offices, and cars of millions of people across the U.S.
All