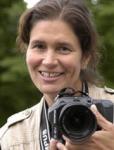 Anne Day is a freelance photographer and writer based in Connecticut and New York. In addition to her work in the United States, she has photographed stories in South Africa, Haiti, France, Spain, Japan and the former Soviet Union. Her work has appeared in
Time, Newsweek, The New York Times, The Washington Post, Fortune, Vogue
, and many other publications.
She has participated as a photographer on eight of the Day in the Life book series and on two of them also as an assignment editor. She has done the principal photography on four books about Classical Architecture published by WW Norton, and is at work on a fifth, a book about the Architecture of The New York Public Library.
For the past three Presidential Inaugurations she has been one of the photographers assigned with covering the Inaugural events for The Official Inaugural Book.
She covered the release of Nelson Mandela in1990 for Reuters and the pictures were published worldwide. Some of her pictures of Mandela are included in the new book: Mandela: A Life In Pictures published Dec. 2009 by Sterling Publishers.
In addition to national and international assignments she covers baseball games, birthday parties, and parades in her hometown, Lakeville Connecticut.
Website: http://www.annedayphotography.com