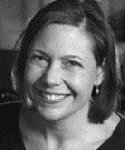 Barbara Moran is an award-winning science journalist, television producer, and frequent contributor to
Invention & Technology.
Ms. Moran has written for many publications, including New Scientist, Technology Review and the Boston Globe. Her television documentary credits include the PBS series Frontline, The American Experience and NOVA, as well as the History and Discovery Channels.
A graduate of the University of Notre Dame and Boston University's Master's program in science and medical reporting, she received a Knight Science Journalism Fellowship at MIT in 2001. Ms. Moran's first book, The Day We Lost the H-Bomb, a nonfiction account of the worst nuclear weapons accident in history, was published by Random House in 2009 and shortlisted for the History of Science Society's Davis Prize.
She lives outside Boston with her husband and sons.