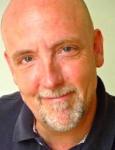 Earl Swift is a reporter for the Norfolk
Virginian-Pilot
whose articles have appeared in
PARADE, Popular Mechanics,
and other publications. He has been a Fulbright fellow, PEN finalist and five-time Pulitzer Prize nominee.
Swift is the author of Journey on the James: Three Weeks Through the Heart of Virginia (University of Virginia Press, 2001), the story of a great American river and the largely untold history that has unfolded in and around it; Where They Lay: Searching for America's Lost Soldiers (Houghton Mifflin, 2003), for which he accompanied an Army archaeological team into the jungles of Laos in search of a helicopter crew shot down thirty years before; and a 2007 collection of his stories, The Tangierman's Lament. His new history of the interstate highway system, The Big Roads, was recently released by Houghton Mifflin Harcourt.
An avid outdoorsman, Swift has through-hiked the Appalachian Trail, circumnavigated the Chesapeake Bay by sea kayak, and traveled the 435-mile length of the James River by canoe. He lives in Norfolk with his daughter, Saylor.