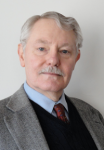 Richard F. Snow worked 37 years at
American Heritage
Magazine, serving as Editor-in-Chief for seventeen of them. Born in New York City, he got a summer job as a mail boy at American Heritage during high school, and after studying English and history at Columbia College, returned to work at the magazine full-time. Snow is the author of several books, most recently
A Measureless Peril
, about the Battle of the Atlantic.
Previously, he authored The Iron Road: A Portrait of American Railroading and Coney Island: A Postcard Visit to the City of Fire, as well as two novels, Freelon Starbird and The Burning, and a narrative poem, "The Funny Place."
Snow has also consulted for historical motion pictures—among them Glory—and documentaries, including the Burns brothers' The Civil War and Ken Burns's World War II documentary. He revisited Coney one more time to work with Ric Burns on the PBS American Experience feature Coney Island, whose screenplay he wrote.