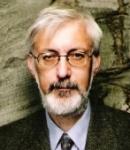 Steven Lubar is a professor in the department of American civilization and director of the John Nicholas Brown Center for the Study of American Civilization at Brown University in Providence, Rhode Island.
Professor Lubar directs Brown's Public Humanities program, building on his interests in issues of culture, community, and public history. Present research projects include work in the history of museums, material culture, 19th-century invention and technology, and digital humanities. He is working on a book on history curatorship.
Previously, Prof. Lubar was Chair of the Division of the History of Technology at the Smithsonian's National Museum of American History. Author of "Legacies: Collecting America's History at the Smithsonian"; "InfoCulture"; and "History from Things." Exhibits include "America on the Move" and "Engines of Change" at the Smithsonian. Interests include the history of museums and memorials, material culture studies, cultural theory in the study of history of technology, and digital humanities.
Prof. Lubar is co-author, with Brooke Hindle, of Engines of Change: The American Industrial Revolution (Smithsonian Institution Press, 1986).