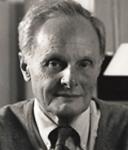 Thomas P. Hughes is Professor Emeritus of the History and Sociology of Science at the University of Pennsylvania and Distinguished Visiting Professor, Massachusetts Institute of Technology.

Professor Hughes was a Finalist for the Pulitzer Prize for his book American Genesis: A Century of Invention and Technological Enthusiasm, 1870-1970 (Viking, 1989; Penguin, 1990).

He is also the author of Networks of Power: Electrification of Western Society, 1880-1930 (Johns Hopkins University Press, 1983); Elmer Sperry: Inventor and Engineer (Johns Hopkins University Press, 1971); Human-Built World: How to Think about Technology and Culture (University of Chicago Press, 2004), Lewis Mumford: Public Intellectual, (Oxford University Press, 1990), and co-editor with Agatha Hughes of Systems, Experts and Computers(MIT Press, 2000).
Articles by this Contributor