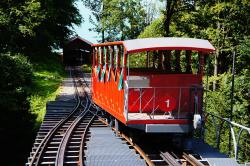 Address1
Grandhotel Giessbach
The first funicular to employ a single, two-rail track along its entire length, with a short passing track.
During the period of prosperity throughout Europe known as the Belle Epoque, railway systems saw tremendous growth, and more and more tourists visited the Alps. One of those major attractions was the Grandhotel Giessbach, a 150-room hotel, situated approximately 100 meters above the waters of Lake Brienz. Seeking a more efficient process for moving passengers from the Giessbach's boat pier to the hotel one car of passengers at a time, Designer and Engineer Carl Roman Abt, developed the Abt Rack System for the Funicular Giessbach, an automatic turnout solution – employing a single track with a half-way turnout.
Abt's initial design had some flaws. Cars passing over the switches encountered numerous bumps, resulting in loose bolts at the rail connections. Despite its "expensive and frequent maintenance," the Funicular was profitable due to its high demand.
Abt's solution to these technical challenges placed two wheel flanges on the outer wheels on the outboard side of each passenger car, as it crossed the turnout – allowing for an uninterrupted guidance rail on the outside of the turnout and larger passages from the cable and the cog rail crossing the inner rails. The "Abt Switch" allowed the passenger car to pass smoothly over the turnout, since the wheels were cylindrical, and without flanges.
Still in service, the Funicular Giessbach measures 1,191 feet long (323 meters), rises to 322 feet (98 meters) and has been the model for many others. Since 1879, there have been more than a thousand installations of the Funicular, with most using the Abt Turnout.
Image Credit
Courtesy Flickr/Martin Abegglen (CC BY-SA 2.0)