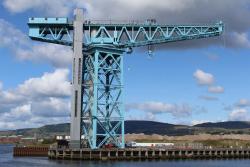 The Titan is a 200-ton electrically driven hammerhead cantilever crane, the earliest survivor of this type. It is now all that remains of the once great John Brown Shipyard in Clydebank near Glasgow where many of the world's great ships were built. Designed and constructed by Sir William Arrol and Co. Ltd., Glasgow, Scotland, in 1907 the Titan set the standard for many more similar cranes to be erected worldwide. It has been restored and opened as a tourist attraction in 2007.
The Titan was designed by Adam Hunter (1869-1933), a Scot and Chief Engineer for Sir William Arrol and Co. Hunter had earlier served his apprenticeship on construction of the Firth of Forth Bridge by Arrol's in 1890. Later he went on to become one of the United Kingdom's leaders of large scale, heavy structural steelwork engineering.
Leading crane-makers of the time, Stothert and Pitt Ltd., Bath, England, fabricated and installed the machinery for the Titan including electric motors built by Lancashire Dynamo and Motor Co. The fixed counterweight and electrically driven hoists, all mounted on the rotating beam, made the Titan faster, more responsive and much less costly to operate and maintain than its steam forerunners.
When tested on 24 April 1907, the Titan was the largest hammerhead type crane ever built with a 150-ton lifting capacity. It led to the building of up to 26 similar and increasingly higher capacity cranes in nine other countries, 13 of which are still believed to exist. In 1938 it was modified to a 200-ton capacity. Titan survived bombing attacks by Germany during World War II and was retired from service in 1971. 
Large ships constructed at the John Brown shipyard during Titan's operating life were the Aquitania, Queen Mary, Queen Elizabeth, Queen Elizabeth II, Britannia and the battleship HMS Hood. 
Present owners, Titan Clydebank Trust, have restored the Titan and converted it to a tourist attraction which includes a visitor's center and a lift that carries passengers 164 feet vertically to the top of the rotating boom. 
The designation of Titan as an International Historic Engineering Landmark in August 2013 represents the first time that four engineering institutions have joined in designating such a landmark, the American Society of Civil Engineers, the American Society of Mechanical Engineers, the Institution of Civil Engineers and the Institution of Mechanical Engineers.
When tested with a 160-ton load at a radius of 85 ft [26 m] and then commissioned, this 164 ft [50 m] high crane became the largest of the hammerhead type. The Titan Crane's fixed counterweight and electrically operated hoists also made this crane faster and more responsive than its steam-powered predecessors. It influenced the design of cranes of this genre worldwide and is now the earliest survivor.
Image Credit
Courtesy Leslie Barrie (CC BY-SA 2.0)