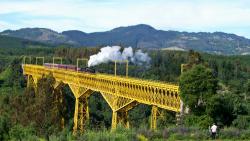 The bridge is 408 meters long and weighed approximately 1,500 metric tons when built. Originally supported by four columns, two more were added in later years to support the weight of heavier rail cars.
In the late 19th century, the Malleco River represented the border between the populated north of Chile and the frontier to the south. Built as part of a nationwide program of railroad development under President Jose Manuel Balmaceda, the Viaducto del Malleco provided an essential rail link between northern and southern Chile. The open steel structure spans a ravine 110 meters deep at the town of Collipulli, 600 kilometers south of Santiago and the end of the existing rail line. 
The Chilean engineer Jose Victorino Lastarria designed the Viaducto del Malleco. Three French companies bid on the contract to prefabricate the components of the bridge. The contract was awarded to Schneider and Co., which outbid the firm of Gustav Eiffel. The prefabricated pieces were transported to Chile on three U.S. steamships and two French sailing vessels.
The Viaducto del Malleco, an early steel viaduct, utilized steelwork prefabricated in France. The structure has an overall length of 408 m and carries the rail line 91 m above the Malleco River. The viaduct typifies the engineering challenge associated with design and construction in remote mountainous areas.
Image Credit
Courtesy Flickr/Rafael Retamal (CC BY-SA 2.0)