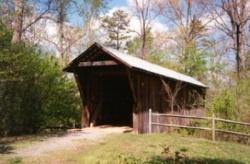 Coordinates
35.72175, -81.115194444444
Bunker Hill Bridge is the only surviving Haupt truss bridge in the U.S. and one of only two surviving covered bridges in North Carolina. Patented in 1839, the Haupt truss featured diagonal braces spanning multiple panels, which was an attempt to eliminate the cross-strain found in lattice truss bridges. Although it was almost immediately eclipsed by the Howe truss and never reached the mainstream of covered bridge building, the Haupt truss is of interest for its association with Gen. Herman Haupt (1817-1905), a nationally renowned engineer, who pioneered the structural analysis of bridges and was in charge of military bridges for the Union during the Civil War. 
Bunker Hill Bridge was built by local carpenter Andrew L. Ramsour (1817-1906), who may have been inspired by earlier Haupt truss bridges in the region. The bridge carried local traffic until the 1920s, when it was bypassed and closed to traffic; it continued to carry farm vehicles into the 1930s. Bunker Hill Bridge was listed in the National Register of Historic Places in 1971 and was designated a National Historic Civil Engineering Landmark by the American Society of Civil Engineers in 2000. The bridge possesses a high degree of integrity and is proposed for National Historic Landmark consideration.
The Catawba County Historical Association has maintained the structure since 1985 and is currently renovating it.  Information is at: https://catawbahistory.org/bunker-hill-covered-bridge.
Thumb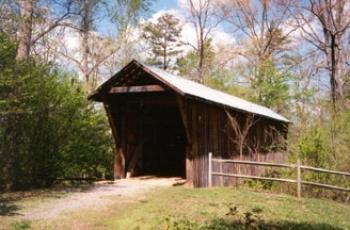 Image Credit
Catawba County Historical Association