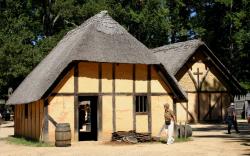 Address1
Historic Jamestown Settlement
Address2
2110 Jamestown Rd
Recent archaeological evidence reveals early Virginia, which included both the Roanoke and Jamestown colonies, as the birthplace of the American chemical enterprise. Chemical processes first applied experimentally at Roanoke were re-introduced at Jamestown twenty years later.
Collectively, the chemical investigations which began in Virginia, which were impelled by the demands of trade, constituted the beginning of industrial production for domestic and foreign consumption. ACS designated the birth of the American chemical enterprise at Jamestown as a National Historic Chemical Landmark on October 10, 2007, part of the celebration of the 400th anniversary of the founding of Jamestown.
English colonists of the Virginia Company of London began chemical technologies soon after establishing Jamestown in May 1607. Working in collaboration with German, Polish, and Swiss specialists, they sought local resources for metals and for the production of substances such as glass, pitch, tar, potash, perfume, and medicine.
Image Credit
Courtesy Flickr/bootbearwdc (CC BY 2.0)