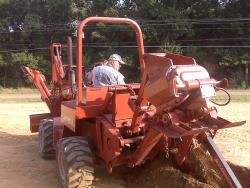 Address1
Ditch Witch Museum & Heritage Center
Address2
222 North 6th Street
The DWP was the first mechanized, compact service-line trencher developed for laying underground water lines between the street-main and the house. This machine, first produced in 1949, replaced manual digging, thus making installation of running water and indoor plumbing affordable for the common household. The DWP paved the way for the creation of a worldwide trenching-products industry, its machines used for the installation of all underground utilities including telephone, cable-TV and data, and fiber-optic cables.
The name, DWP, stood for Ditch Witch (trencher) Power, to distinguish it from a companion machine that relied on a ratcheting, manual operation for mobility. To dig narrow trenches, the DWP used a vertical bucket line with an endless conveyor chain to carry off the spoil. A simple but very unique design, it put the endless conveyor digging chain design concept used on larger ditch digging machines into a small package. Small two-piece buckets with sharp finger-like edges were mounted on a vertical chain to gouge out chunks of dirt. The buckets were attached in sequence onto an endless moving chain that carried them down a ladder type mechanism to chew out chunks of soil, then upward to dump the "spoil" in neat piles on the ground as they began the downward descent to bring up more dirt. A 6-inch wide trench with a digging depth of 30 inches was the goal.
When he was 27, Ed Malzahn hand-built the first versions in the family machine shop after months of experimentation. Working together, Ed and his father Charlie produced the first production DWP trenchers in 1949. Those were the forerunners of a range of machines that now are known worldwide for durability and reliability in a large array of difficult digging jobs.
In 1955, the U.S. Patent Office issued patent No. 2,714,262 for Ed Malzahn's endless conveyor ditch digging machine. The DWP trencher's compact size and low cost opened the door for making indoor plumbing affordable worldwide. The industry has evolved from the first service-line trencher, the DWP, into today's technologically advanced equipment designed for installation of all underground utilities including telephone, cable TV, and fiber optic communication cables.
The landmark DWP was purchased by Alex Baker of Long Island, New York, on February 5, 1952, at the factory in Perry, Oklahoma. Baker was a lawn sprinkler system contractor and he used the Ditch Witch DWP trencher until trading it in for a new model in 1969. That unit has been completely restored to its original condition and is now on display at the Ditch Witch Museum in Perry just three blocks from the plant where it was manufactured.
Having grown up in his father's machine shop, Ed Malzahn refined his education with a bachelor's degree in mechanical engineering in 1943, from Oklahoma Agricultural and Mechanical College (Oklahoma A&M), known today as the Oklahoma State University. The family business evolved from a blacksmith shop established in 1902 in Perry, Oklahoma Territory, by Ed's grandfather, Carl Frederick Malzahn, a German immigrant who came to Perry to escape the harsh Minnesota winters. In the years to come, that business became his father's machine shop (Charlie's Machine Shop) and, eventually, The Charles Machine Works, Inc.
Image Credit
Courtesy Flickr/NathanReed (CC BY 2.0)