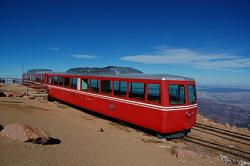 Address1
515 Ruxton Ave, CO 80829
The Broadmoor Manitou and Pikes Peak Cog Railway (also known as the Pikes Peak Cog Railway) is a cog railway that climbs one of the most iconic mountains in the United States, Pikes Peak in Colorado. The base station is in Manitou Springs, near Colorado Springs.
Construction on the line was started in 1889 and the first train reached the summit on June 30, 1891. Cog railways are common in Switzerland and found in other parts of the world (totaling about 50 lines), but this is one of only three such lines remaining in the United States, the others being the older Mount Washington Cog Railway in New Hampshire, and the short Quincy and Torch Lake Cog Railway.
Originally powered by steam locomotives, the line later switched over to diesel-powered locomotives and self-propelled railcars. The railway was closed between October 29, 2017 and May 20, 2021, for a complete refurbishment that saw the replacement of the track infrastructure, the rebuild of older railcars and the purchase of three new trainsets.
Thumb