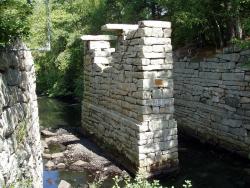 Address1
71 Faulkner Street
While the Erie Canal  has become well-known in the annals of American history, the Middlesex Canal, built two decades earlier and a model for canal engineers throughout young America, has only recently become recognized for its important achievements. Extending 27 miles northeast from Boston harbor to the Merrimack River near present-day Lowell, Masachusetts, the Middlesex Canal provided low-cost and efficient freight transport for almost five decades, helping to establish the canal in the U.S. as a viable means of economic development.  

The building of the Middlesex Canal also served as a proving ground for an American practice of civil engineering. Its construction, for example, saw one of the first uses of telescopic leveling devices in America, the first innovations in cement-making, the first experiments in "puddling" canal banks to make them water-tight, and the first use of dump carts to speed excavation. While the canal never turned a profit for its private investors, it nonetheless stimulated economic growth along its path, establishing a foundation for one of America's first major industrial regions.  

Facts
Thirty feet wide and three-and-a-half-feet deep, the Middlessex Canal was dug through the rocky New England terrain by hand, mainly by property owners who were paid to excavate the section of the canal that crossed their land. The construction of more than 50 bridges and eight acqueducts was carried out by eight companies, which hired as many as 500 workers, a labor force that also helped complete the remainder of the digging.
The Canal project was supervised from by Colonel Loammi Baldwin, a self-educated Revolutionary War veteran who relied on British engineer William Weston to help him survey and lay out the canal's path. Perhaps the most impressive of Col. Baldwin's accomplishments was the 188-foot-long acqueduct he built to carry the canal 30 feet above the Shawsheen River. The remnants of the acqueduct are among the most prominent reminders of the Middlesex Canal left today. 
Col. Loammi Baldwin's son, Loammi Baldwin, Jr., also became a civil engineer, playing an important role in the building of early American canals and railroads. 
In the first eight months of the canal's operation, 9,405 tons of freight were carried into Boston at a cost of nearly $14,000. The comparable cost by land would probably have been more than $50,000. Soon after its opening, the Middlesex Canal also began to serve families and individuals seeking escape from the summer heat of the city of Boston. Brightly painted boats regularly carried passengers to villages and taverns along the canal, where they might spend several days in the cool New England countryside.
In 1812, the Middlesex Canal company built the first steam towboat in America, fitting a heavy steam engine on a standard canal boat. After three summers, the experiment was halted because vibrations from the engine literally threatened to shake the boat apart. Another version using a smaller engine was tried, but could not be operated efficiently under four miles per hour, the canal's speed limit.
The Middlesex Canal helped make possible the growth of Lowell, Massachusetts, as America's first industrial center, with its elaborate system of canals and water-powered textile mills. Throughout the 1830s, the canal's "golden age," it carried vast supplies of raw cotton and other materials to the mills, and finished supplies back to Boston. Soon thereafter, the Middlessex Canal was supplanted as the preferred means of industrial transportation in the region by the development of railroads.  
Resources 
Mary Stetson Clarke, The Old Middlesex Canal; Canal History and Technology Press, 1987, ISBN 0930973054
Middlesex Canal Museum & Vistor's Center, Lowell, MA, National Historical Park
Warburton VerPlank, Middlesex Canal Guide and Maps; Middlesex Canal Association, 1996
"Additional funds were continually needed as unexpected expenses arose. The rebuilding of the embankments that sank and continued to sink were extremely costly. Material for watertight mortar had to be imported at considerable expense. Stonework on the locks ran into high sums. Unsuspected [rock] ledge required tedious and expensive excavation..."
- Mary Stetson Clarke, The Old Middlesex Canal, 1987
Image Credit
Courtesy Wikipedia/Daderot (CC BY-SA 3.0)