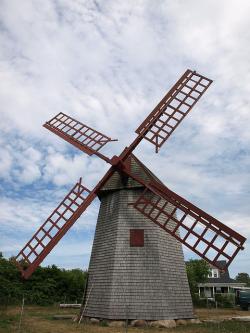 Address1
50 Prospect Street
The Old Mill, a smock type of windmill, believed to be the oldest operating windmill in the United States. Most of its parts are original. This mill is the sole survivor of four that once stood along the range of hills west of the town of Nantucket. The long spar and wheel rotate the top of the mill and turn the sails into the wind. Inside, visitors can watch the gears as corn is ground into meal, producing about 5 bushels an hour. Documentation of the restoration of the windmill is located at the Nantucket Historical Association's Research Center.
The mill was built in 1746 by Nathan Wilbur, a Nantucket sailor, who put the methods he had seen on his travels to good use. Islanders refused to cooperate with him until he proved it worked. Oaken beams, washed ashore from wrecked vessels, provided the mill's framework, held together by wooden pins and scrap metal.
The mill stands 50 feet high, with four blades 30-feet in length. The interior mechanism has a driving wheel at the top, connected to the blades. Projecting from this wheel are wooden cogs that intersect with another set of wooden teeth in a vertical shaft, which in turn revolves the upper grindstone. A crude brake was built to counteract the force of the wind: a heavy oak beam attached by a rope and pulley to a box of stone weighing several hundred pounds. The box can be raised or lowered to press the beam against the windmill shaft.
Over the years, the mill has passed through many hands, becoming idle sometime after 1866. It was run in 1892 to produce a few bags of meal that were sold as souvenirs. In 1897 the mill was given to the Nantucket Historical Association, which repaired it and reopened it 1898 for summer visitors.
oldest operating smock-type windmill in the United States

Image Credit
Courtesy Flickr/Hiroshi Okugawa (CC BY 2.0)