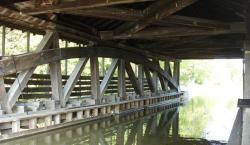 Address1
Whitewater Canal
Address2
17199-18207 U.S. 52
The significance of the 15-mile Whitewater Canal was not in its ability to create a profit, but rather its effect on the economic growth of the Whitewater River Valley, considered the gateway to the interior of Indiana. Before the canal, travel was challenging. Most waterways in Indiana were only navigable by canoe, and the alternative - horse and wagon - was difficult, slow and expensive.  

One of the notable features along the canal is the 71-foot Duck Creek Aqueduct, the oldest covered wooden aqueduct in the U.S. The original aqueduct was an open trough that washed away in the flood of 1847. Instead of rebuilding all of the destroyed portions, the builder ingeniously acquired a covered bridge in its early stages of construction and adapted it to replace the open trough.  

While both the canal and aqueduct were eventually abandoned, the State of Indiana restored them for recreational use in 1948. The area subsequently became the Whitewater Canal State Park.  
CLAIM TO FAME
The Duck Creek Aqueduct, a 71-foot span, is the oldest wooden covered aqueduct in the country.
"The Whitewater Canal ... gave new life to the towns, extended commerce, and improved social conditions. It educated the people and fitted them for greater achievements when the era of railways came...[it] contributed largely to the welfare and happiness of the people."
- Lee Ault, Educator The Whitewater Canal, 1900

Image Credit
Public Domain (Author's Choice)