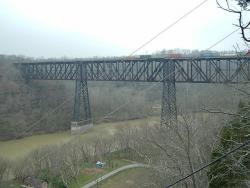 In the 1850s, the Lexington and Danville Railroad began building a suspension bridge over the Kentucky River. The bridge was designed by John A Roebling. Due to unforeseen increases in train loads, the Roebling bridge was never completed. The High Bridge would then be built 20 years later on the existing foundations.
The High Bridge was the first major cantilever bridge in the United States, and was considered the tallest railway bridge in the world. Rising 275 feet in the air, it provides spectacular views of Mercer, Jessamine, and Garrard counties. The bridge was composed of three 375-foot main spans and several approach spans for a total length of 1,230 feet. Construction required 7,000 tons of steel.
In 1911, the original High Bridge was replaced by a Gustav Lindenthal design, which stood 35 feet taller. That bridge was expanded in 1929, providing two sets of tracks to accommodate increasing railway traffic. 
Image Credit
Public Domain (Author's Choice)