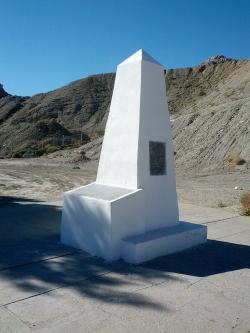 William Emory was an 1831 graduate of the U.S. Military Academy at West Point. When the Mexican War broke out, he was assigned as chief engineer officer to General Stephen Kearny, whose army traversed largely unknown territories in the West. The U.S. War Department would later print 10,000 copies of Emory's Notes of a Military Reconnaissance, which made a significant contribution to understanding the geography and topography of the Southwest.
The Treaty of Guadalupe Hidalgo in 1848 ended the Mexican War and ceded to the U.S. a vast expanse of land stretching from Texas to the Pacific and as far north as present-day Wyoming. The Rio Grande River became the official boundary between the two countries from El Paso east, but the treaty defined the western portion of the border only in principle. 
It was the superb surveying skills of William Emory and the Emory-Salazar Commission that pinpointed the exact boundary between the U.S. and Mexico across some 2,000 miles of uncharted territory. The commission's pioneering work from 1848 to 1853 is commemorated by International Boundary Marker Number 1, a 12-foot high stone monument erected in 1855 on the west bank of the Rio Grande where the land border begins. 
Facts  
The Treaty of Guadalupe Hidalgo ceded to the U.S. the territory that now comprises California, Nevada, Utah and parts of Arizona, New Mexico, Colorado, and Wyoming. 
The boundary marker is located on the west bank of the Rio Grande in the state of New Mexico, its five-foot base bisected by the international border. In 1966, the stone monument was refaced with marbleized concrete and a new concrete base was installed.
Boundary Marker No. 1, located between Dona Ana County, New Mexico (near El Paso, Texas), and Juarez, Mexico, not only represents an international boundary but is also a monument to the professional skills of the American surveyors who were called upon to locate it in 1855.