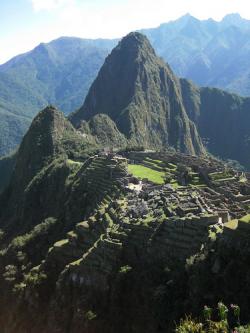 Address1
Santuario Historico Machu Picchu
Address2
Mt. Machu Picchu
Machu Picchu represents the culmination of Inca public works building standards and technology, as well as 4,000 years of Andean community development.  This landmark is the most well known archaeological site in South America and serves as a destination site for world travelers.  It was a royal estate for Emperor Pachacuti.  

The construction of Machu Picchu on the eastern slope of the Peruvian Andes commenced in AD 1450.  It was essentially abandoned by AD 1540 after the Inca Empire fell to the Spanish conquistador Pizzarro.    The site provides examples of soil stewardship, longevity of public works, use of native stone, permanence of terrace walls, and overall designing with nature.  Machu Picchu demonstrates the ingenuity of prehistoric civil engineers who did not have the advantage of the wheel, a written language, iron, or steel.   

Machu Picchu represents civil engineering and environmental design in harmony with its environment, along with the use of the design standards of the Inca Empire to create a visually beautiful royal estate.  Site preparation and foundation engineering are exemplary, hydrological and hydraulic engineering were thorough, and its urban drainage design sets a standard of care for modern engineers.  It is a prime example of early, integrated city planning in the western hemisphere.     

Facts
Unique engineering features of Machu Picchu include: 
A high standard of care for longevity and attractiveness. 
Environmental design in harmony with the natural surroundings. 
Urban drainage outlets and channels. 
A stabilized ancient landslide
Spring headworks and canal. 
Sixteen domestic water supply fountains. 
Hundreds of terraces for slope stability.
Subsurface drainage using inverse filters.
Granite stairways to mountaintops.
Solar observatories. 
High-status granite stonework.
Stone walls with 10 percent batter for aesthetics and stability. 
Inca Trail highway culvert.
Extraordinary city planning.
Machu Picchu was a masterpiece of site selection, city planning, and design and construction of trails, buildings, a water supply canal with many fountains, and agricultural terraces. The infrastructure illustrates the advanced civil, hydraulic, and geotechnical engineering capabilities of the Inca people.
Image Credit
Courtesy Flickr/Chang'r (CC BY-ND 2.0)