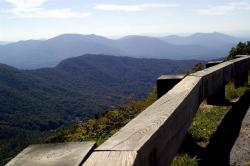 City
Blue Ridge Mountains
Designed to connect the Shenandoah National Park in Virginia and the Great Smokey Mountains National Park in North Carolina, the Blue Ridge Parkway was planned to provide pleasant motoring and to conserve and interpret the unique natural and cultural resources of the Southern Highlands. It was conceived also as a public works project to relieve unemployment in the Appalachian region during the Great Depression.
The Parkway was designed as an elongated national park to provide scenic variety, including mountainsides, plateaus, streams, and broad river valleys, providing travelers with one of the most diversified driving experiences in the world. 
Facts  
Funded by Congress in 1933 as part of the National Industry Recovery Act, the Parkway was, at the time, the longest road ever to be planned as a single unit up. 
Construction spanned 52 years and ultimately comprised 469 miles of roadway, 26 tunnels, and numerous culverts, bridges, and viaducts. This bridge was built in 1959. 
Tunnels are used in areas of steep terrain to cut through ridges that run perpendicular to the roadway alignment. 

Resources  

Jolley, Harley E.  The Blue Ridge Parkway . University of Tennessee Press 1969.
Image Credit
Courtesy Flickr/thewebprincess (CC BY-ND 2.0)