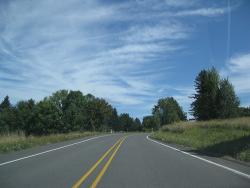 Address1
Columbia River Hwy
Address2
Columbia River Gorge
A project that combined great engineering ambition and burgeoning civic pride, the Columbia River Highway was built at the dawn of the automobile age out of a desire to bring greater attention to the growing population and natural beauty of the Pacific Northwest. By the time of its completion in the 1920s, the 73.8-mile highway had become a textbook example of modern highway construction and an important commercial and recreational link between Oregon's coastal Willamette Valley and the inland areas of eastern Oregon and Washington. 
The project's chief engineer, Samuel C. Lancaster, spent a year in Europe prior to beginning the Columbia River Highway studying the great mountain highways there. On his return, he initiated a program of cliff-face highway building with many innovative features designed to showcase the rugged Columbia River Gorge. These included a 390-foot-long tunnel with five arched windows; several light, graceful bridges; long stretches of masonry retaining walls; rustic parapets with arched openings; and pedestrian overlooks. 
Facts  
During the 1920s, the Columbia River Highway was extended to a total length of 200 miles. At the time, the Oregon Highway Commission reported that the highway was "probably the most difficult and costly priced [sic] highway construction undertaken in America," and estimated its total cost at $11 million. The highway was incorporated into the national highway system during the late 1920s as a portion of U.S. Highway 30. 
Much of the original Columbia River Highway was changed during the construction of Interstate 84 in the late 1950s, 1960s, and early 1970s. This included destruction of Mitchell Tunnel, with its five arched windows. When the Hood River Bridge was destroyed in 1982, public support arose to save the remaining 55 miles of the highway, 40 miles of which remain drivable. 
Much of the original highway remains intact, including 17 bridges, seven viaducts, several tunnels, long sections of retaining wall, rustic parapets, arcades, and scenic overlooks. In the western 22-mile section, two recreational sites -- the Crown Point Vista House and Multnomah Falls Lodge -- are listed in the National Register of Historic Places. 
Resources  
Ethan Carr, Wilderness by Design: Landscape Architecture and the National Park Service; University of Nebraska Press, 1998 
Robert W. Hadlow, Historic Columbia River Highway Recording Project; National Park Service, Historic American Engineering Record, 1994 
"On starting our surveys, our first business was to find the beauty spots, or those points where the most beautiful things along the line might be seen in the best advantage, and if possible to locate the road in such a way as to reach them."
- Samuel C. Lancaster, Chief Engineer, Columbia River Highway
Image Credit
Courtesy Flickr/Doug Kerr (CC BY-SA 2.0)