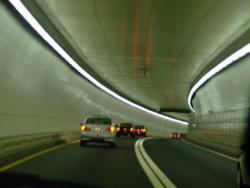 The 1.6-mile Holland Tunnel was the first underwater vehicular crossing of the Hudson River and the first tunnel specifically designed for automobiles and trucks. It dramatically reduced the time required to traverse the Hudson River, a trip previously possible only by ferry. 
A major difficulty when tunneling beneath a river is to keep water and mud from inundating the workers and equipment in the tunnel. Builders of the Holland Tunnel used a shield that enveloped the work site as the excavation progressed; this also avoided obstruction of shipping traffic during construction.
The tunnel is named for the project's first chief engineer, Clifford M. Holland, who died just days before the tunnel was holed through.
The Holland Tunnel, a twin-tube subaqueous highway tunnel with its unprecedented length of 8,500 feet, was a bold step forward in navigable waterway crossings.
Image Credit
Courtesy Flickr/Chris Leung (CC BY-SA 2.0)