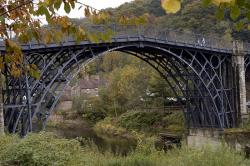 City
Coalbrookdale-Ironbridge
This bridge is recognized as the first iron bridge in the world. This rural region of England was an important industrial area thanks to coal deposits near the surface. In 1776 the nearest bridge that enabled people and goods to pass over the River Severn was two miles away at Buildwas. There was a ferry crossing, but the trip was difficult and dangerous especially in winter. In 1776, an Act to build a bridge to remedy this situation received Royal Assent.
The bridge was cast in the local foundries and built across the River Severn by a man named Abraham Darby III. Abraham Darby was the first, in 1709, to master the science of smelting iron with coke, rather than costly charcoal. He leased an old furnace in Coalbrookdale to do so. The son of a Quaker farmer, Darby was the first to use the cheaper iron, rather than brass, to cast strong thin pots for the poor. Under his son and grandson, the Coalbrookdale works flourished. It was in November 1777 that Abraham Darby III began erecting the 378 tons of cast iron to build the bridge which spans the 30 m/100 ft of the Shropshire gorge. Designed by Thomas Farnolls Pritchard, the bridge itself was completed in 1779 with the fitting of the balustrade and the road surface along with the obligatory toll house.
The town of Ironbridge began to grow around the Bridge immediately after it opened to traffic. After it survived the great floods of 1795, cast iron was used widely in construction of bridges, buildings and aqueducts. Standing today, the Iron Bridge is an outstanding international monument to both the civil engineering profession and the industrial revolution.  
Image Credit
Courtesy Wikipedia/Jasonjsmith