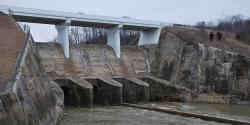 Address1
Taylorsville Dam (One of 5 Dams)
The Miami Conservancy District flood control project was the direct result of the disastrous flood of 1913, when waters from the Miami, Stillwater, and Mad rivers flooded Dayton and surrounding communities in the Miami Valley. More than 400 lives were lost and property damage exceeded $100 million. When Dayton flooded, great fires raged, adding to the devastation. Many believed that the area would never recover. 
Shortly after the disaster, a Flood Prevention Committee was formed to study flood control methods. From this effort, the Miami Conservancy District was born. It provided the first regionally coordinated flood control system in the U.S., benefiting a 9-county region. Five huge dry dams were constructed, each impounding water only when rainfall in the watershed upstream of the dam exceeds the capacity of the river channel downstream of the dam.
Facts  
During flooding, the excess water builds up behind the dam in an area called a retardation basin. The outlet discharges only as much flow as it is designed to release, gradually draining the retard basing until empty. No effort is made in the system to effect permanent water storage or to produce power during water discharge. 
The project included the construction of five dams, levee and channel improvements at nine villages, relocation of four railroad lines, removal of one entire village, and the lowering of water and gas mains. 
All dams were built by the hydraulic method and were pierced by concrete conduits that allow the maximum volume of water to discharge without exceeding the downstream channel capacity. 
Dam lengths range from 1,210 to 6,400 feet and heights range from 65 to 110 feet. 8.4 million cubic yards of fill were used to build the dams. 
Upon completion, the system was heralded as a model for flood control projects throughout the nation. The construction of the dry dams advanced the engineering of earth-core, hydraulic-filled dams and the district's technical reports provided model processes for future projects, including those of the Tennessee Valley Authority.
The Miami Conservancy District project was the first regionally coordinated flood control system in the United States that employed retention reservoirs for controlled release of floodwaters. Since its completion, the protected Miami Valley has not been damaged by flooding.

Image Credit
Courtesy Flickr/bobosh_t (CC BY-SA 2.0)