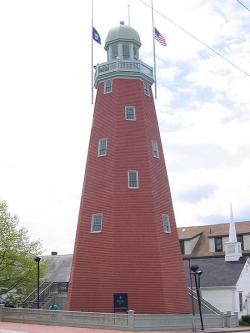 The Portland Observatory was built in 1807 by Captain Lemuel Moody to serve as a communication station for Portland Harbor. Portland Observatory was one of the earliest marine signal stations in the United States, and it is the last known to survive. The Observatory's location on Munjoy Hill gave it a clear view of vessels approaching Portland Harbor. The Observatory contributed to the prosperity of Portland Harbor as a vital center of maritime commerce during the "Golden Age of Sail."  

The tower is unique in its engineering design and construction. The tapered, octagonal tower is 86 feet tall with a diameter of 32 feet at the base and 15 feet at the observation deck. Captain Moody employed shipwrights to build the tower and its wooden structural system and joinery reflect this maritime influence. The foundation is composed of a grid of large timbers with 122 tons of rubble stone ballast to provide overturning resistance to wind forces. Each octagonal corner is framed with a substantial post of native Maine white pine, reminiscent of ship's masts. 

Beyond its original commercial function, Portland Observatory has also served as a watchtower during times of war, from the War of 1812 to World War II. The Observatory has undergone repairs and restorations in 1939, 1975, 1983 and 1985. The most recent renovation occurred in 1998-2000. The Observatory is listed on the National Register of Historic Places (1972) and is a National Historic Landmark  (2006). The Observatory was documented by the Historic American Building Survey in 1936 (HABS ME-1). As of 2007, the Observatory is operated as a museum and historic site by Greater Portland Landmarks.  

Resources
Moulton, John K. Captain Moody and his Observatory. Greater Portland Landmarks, 2000.
Moulton, John K. The Portland Observatory: the Building, the Builder, the Maritime Scene. Greater Portland Landmarks, 1996. 
Image Credit
Courtesy Wikipedia/Econrad (CC BY-SA 3.0)