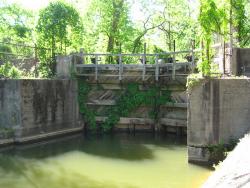 Address1
Great Falls Park
These canals and locks are a part of the first extensive system of canal and river navigation works undertaken in the United States. The idea for the canal was proposed by George Washington, when, as an engineer, surveyor and military emissary for Virginia, he saw the need for a trade route west beyond the Allegheny Mountains. In order to do create this route, it was necessary to try to tame the Potomac River which was a wild, unruly stream which only the hardiest of rivermen ever attempted. To this end, he successfully gained the approval of both the Virginia and Maryland legislatures to charter the Potowmack Canal Company in 1785. Washington served as first president of the company from 1785 to 1789. He resigned this position when he became President of the United States.
To tame the Potomac, they cleared the bed of its greatest obstructions; and, where insurmountable falls and rapids occurred, they bypassed them by building fringing canals. The greatest impediment to navigation of the Potomac was at Great Falls where the river plunges 76 feet downward on its course to tidewater. To overcome this impediment, a canal was devised that was three quarters of a mile length, a major part of its 76-foot descent was achieved in five sets of stone locks located at the lower end of the channel.
The five locks were each 100 feet long and walled with large blocks of handhewn Seneca sandstone. The total lift was 77 feet. Features of the works are considered outstanding for its time. They included butterfly valves in miter, or 45-degree angled, gates, contiguous locks and a separate supply basin for the larger capacity lower locks.
Resource:
1. Torres-Reyes, Ricardo. Potowmack Company Canal and Locks, Great Falls, Virginia; Historic Structures Report. Washington, DC: Division of History, U.S.
2. Office of Archeology and Historic Preservation, 1970.
Image Credit
Courtesy Flickr/Rudi Riet (CC BY-SA 2.0)