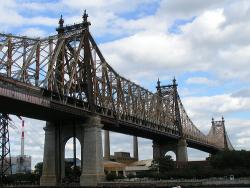 Address1
Queensboro Bridge Path
When opened in 1909, the Queensboro Bridge had the two longest steel cantilever spans in the world - 1,182 feet from Manhattan to Blackwell's Island and 984 feet from Blackwell's Island to Queens. These would remain the world's longest cantilever spans until the completion of the Quebec Bridge in 1917. The Queensboro Bridge has an overall length of 3,724.5 feet. It originally carried two elevated railway lines, two trolley lines, six carriage lanes and two pedestrian walkways. 
As early as 1804, many designs for a bridge crossing of the East River at Blackwell's Island (now Roosevelt Island) had been proposed for various locations from 52nd to 82nd Streets. The initial design for a bridge at 59th Street was completed by R. S. Buck, S. R. Probasco and J. Shea. Their design was for a multiple-span cantilever bridge with suspended spans. (A suspended span of a cantilever bridge is a central truss supported from the tips of the two cantilever arms.) Although construction of the foundations had already begun in late 1901, Commissioner of Bridges Gustav Lindenthal proposed substantial changes to the design of the bridge upon his appointment in 1902. Lindenthal's design was unusual in that it did not include a suspended span between the two ends of the cantilevers, and it used massive steel eyebars for the upper chord. Lindenthal also hired the architect Henry Hornbostel to design the decorative features of the bridge. New York Mayor Seth Low appointed an independent panel of engineers to assess the two designs. The panel ultimately suggested a revised design which included elements of both Buck's design (deck cross-section) and Lindenthal's design (lack of suspended span). The Queensboro Bridge was designed to carry dead loads through pure cantilever action and live loads as a continuous bridge, which required the application of advanced structural analysis methods. 
In 1907 the first Quebec Bridge, also a steel cantilever bridge, collapsed during construction, leading to another detailed engineering review of the Queensboro Bridge design. The results of this review were published and subsequently debated in the pages of several engineering journals. To reduce the overall load on the bridge, two of the four rail lines were removed from the upper level of the bridge. 
As with most of the major New York City bridges designed and constructed during the early 20th century, the Queensboro Bridge is the result of the involvement of many the leading bridge engineers of the day, numerous design revisions, and the intervention of local political and business interests. The Queensboro Bridge was instrumental to the development of midtown and upper Manhattan and the Borough of Queens. 
Resource
Griggs, F.E. "A Bridge Across the East River at Blackwell's Island," unpublished manuscript.
The Queensboro Bridge was the longest cantilever span in North America (1,182 feet) from 1909 until the Quebec Bridge opened in 1917 and the longest in the United States until 1930

Image Credit
Courtesy Flickr/reivax (CC BY-SA 2.0)