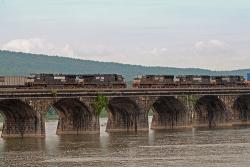 Address1
Susquehanna River
Address2
800 S Main Street
The third bridge built on the same site to carry railroad tracks across the Susquehanna River just north of Harrisburg, Pennsylvania, the Rockville Stone Arch Bridge, at 3,820 feet long and 52 feet wide, is believed to be the longest and widest stone-arch railroad bridge in the world. A central link in rail travel between New York City and Pittsburgh, the Rockville Stone Arch Bridge accommodates four lines of railroad tracks, today serving both the Norfolk Southern and Amtrak lines.
At the time of its construction, the Rockville Stone Arch Bridge represented the high point of the Pennsylvania Railroad's program in the late 19th century to replace all wooden and iron bridges with stone and concrete structures. It also demonstrated the successful evolution of stone-arch bridge-building in America, placing 48 spans of 70 feet each across the flood-prone Susquehanna and eliminating a significant bottleneck on the main Pennsylvania Railroad line.
Facts  
With a concrete core encased in stone facing and stone arches, the Rockville Stone Arch Bridge was built in manner resembling the acqueducts of the Roman Empire. Serving its purpose for a century, the Rockville Stone Arch Bridge has survived not only record-setting floods but also substantial increases in load weights.
The Rockville Stone Arch Bridge replaced an iron, two-track bridge built in 1877, and an earlier, wooden bridge carrying a single track, completed in 1850. The wooden structure, based on the Howe-truss design with added Burr arches, comprised 23 spans for a total of 3670 feet.
"The greatest forward movement in the building of stone railroad bridges in America began in 1888, when the Pennsylvania Railroad company, under the direction of chief engineer William Brown, commenced replacing its wood and iron bridges with permanent ones of stone and concrete..."
- Henry G. Tyrrell, History of Bridge Engineering, 1911
Image Credit
Courtesy Flickr/John Mueller (CC BY 2.0)