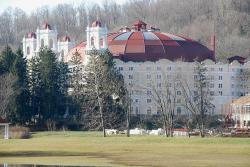 Address1
West Baden Springs
Address2
8538 West Baden Ave
The steel dome stretches 200 feet in diameter and rises 100 feet at its top. To accommodate thermal expansion, the inverted bowl-shaped structure originally rested on rollers that sat on the flat tops of six-story columns
There was a time when Americans from the Eastern seaboard braved long rail trips to southern Indiana in hopes that the water at the French Lick natural mineral springs could bring relief from alcoholism, pimples, gallstones and a host of other ailments and illnesses.
To accommodate these guests in style, Harrison Albright constructed a luxurious hotel and spa in just 277 days, whose site covered 684 acres. The building's primary feature was its central dome, considered the largest clear-span dome in the world when built. Many of the hotel's 510 rooms surround the dome and the murals, mosaic and marble of its magnificent atrium.
In the 1930s, when natural spring spas lost their appeal as potential cure-alls, the hotel's business began to wane. Once the Great Depression hit, it closed.
At the time of its completion, the West Baden Springs Hotel was the largest domed structure in the world. The dome diameter of 200 feet was not surpassed for more than 60 years.

Image Credit
Courtesy Flickr/Bulldog23 (CC BY-ND 2.0)