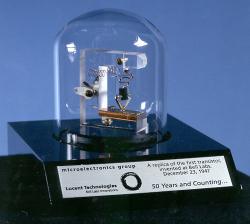 Society:
IEEE
Main Category:
Electrical
Sub Category:
Components, Circuits, Devices & Systems
Era:
1940-1949
DateCreated:
1947
Building 6
Murray Hill
State:
NJ
Zip:
07974
Country:
USA
Website:
http://www.ieeeghn.org/wiki/index.php/Milestones:Invention_of_the_First_Transistor_at_Bell_Telephone_Laboratories,_Inc.,_1947, http://www.alcatel-lucent.com/wps/portal/!ut/p/kcxml/04_Sj9SPykssy0xPLMnMz0vM0Y_QjzKLd4w3MfQFSYGYRq6m-pEoYgbxjgiRIH1vfV-P_NxU_QD9gtzQiHJHR0UAAD_zXg!!/delta/base64xml/L0lJayEvUUd3QndJQSEvNElVRkNBISEvNl9BX0FLTC9lbl93dw!!?LMSG_CABINET=Bell_Labs&LMSG_CONTENT_FILE=History/Timeline/Timeline_Innovation_000060&UNIQUE_NAME=lu.gen.prt.pg.rendition&lu_lang_code=en_WW
Creator:
Shockley, William, Brattain, Walter H., Bardeen, John A., Bell Labs
Image Credit:
National Archives
Era_date_from:
1947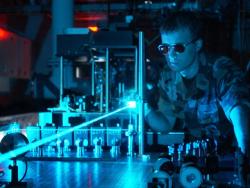 Society:
SPIE
Main Category:
Optics
Sub Category:
Lasers & Electrooptics
Era:
1950-1959
DateCreated:
1957
600-700 Mountain Avenue
Murray Hill
State:
NJ
Zip:
07974
Country:
USA
Website:
http://spie.org/
Creator:
Gould, Gordon , Bell Labs
As ideas developed, they abandoned infrared radiation to instead concentrate upon visible light. The concept originally was called an "optical maser". In 1958, Bell Labs filed a patent application for their proposed optical maser; and Schawlow and Townes submitted a manuscript of their theoretical calculations to the Physical Review, published that year in Volume 112, Issue No. 6. Simultaneously, at Columbia University, graduate student Gordon Gould was working on a doctoral thesis about the energy levels of excited thallium.
Image Credit:
Courtesy of the US Air Force
Era_date_from:
1957
Subscribe to 07974
Innovations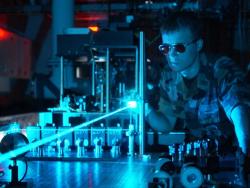 As ideas developed, they abandoned infrared radiation to instead concentrate upon visible light. The concept originally was called an "optical maser". In 1958, Bell Labs filed a patent application for their proposed optical maser; and Schawlow and Townes submitted a manuscript of their theoretical…
Read More