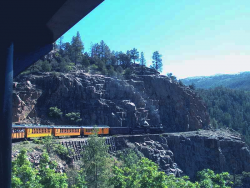 The Durango-Silverton Narrow Gauge Branch of the Denver & Rio Grande Western Railroad extends from the town of Durango to the mining camp of Silverton. Built in 1882 through one of the most rugged mountain areas of the nation, its complexity remains a testament to the role civil engineering played in the development of the western United States. 
The tracks rise up the sheer, steep Animas Canyon, running along a rock ledge just wide enough to carry the train. The line is used today as a tourist attraction, carrying visitors through the picturesque San Juan Mountains.
The 45-mile line was constructed in just over nine months at a cost of $917,303. The first steel rails produced in Colorado were used in construction of this line.
Facts  
Silverton sits at an elevation of 9,300 feet. 
The railway's maximum grade is 2.5 percent. In such rugged terrain, this relatively modest project was a significant surveying and construction accomplishment. 
The 500 laborers who built the railway were primarily Irish and Chinese immigrants. 
Laborers lived in rail cars provided by the D& R Western Railroad, though some chose to make their homes in nearby caves. The average daily pay was $2.25. 
Resources  
Royem, Robert,  An American Classic: The Durango & Silverton Narrow Gauge Railroad , 1995, Limelight Press. 
CLAIM TO FAME
The Durango-Silverton Narrow Gauge Train is one of the last of the narrow gauge railroads, linking the Colorado mining towns of Durango and Silverton and is an example of the important role that civil engineering played in developing the west.
"It was an era of boisterous expansion, and a spirit of heady optimism infused the developing nation. The train gave Americans a taste of freedom and mobility that had never been known."
- Robert Royem An American Classic: The Durango & Silverton Narrow Gauge Railroad