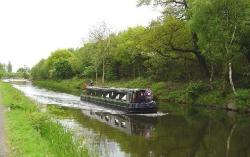 Address1
Forth to Bowling on the Clyde, Scotland
It took 22 years to complete the 35-mile waterway, as funding problems caused the work to shut down from 1777 to 1785.  

The notion of creating a canal that crossed Scotland was conceived in the 17th century during the reign of Charles II, but would not be realized for nearly 100 years.  The Forth and Clyde Canal, known as The Great Canal in its early years, was the first major transportation project in Scotland and the world's first man-made, sea-to-sea ship canal.   

Envisioned to provide Scotland's first major transportation link between the east and west coasts, the canal stretches from Forth at Grangemouth to Bowling on the Clyde and provides a 3-mile branch to Glascow's Port Dundas.  Crossing through cities, suburbs, and countryside, the route brought ships from the North Sea to the Atlantic.  It was one of the first canals to provide transport for carts and railway wagons.  

The canal prospered for nearly 100 years, but lost ground to road and railway alternatives by the end of World War II.  The canal was officially closed in 1963, but restored and reopened in 2001.  

Facts 
It took 22 years to complete the 35-mile waterway, as funding problems caused the work to completely shut down from 1777 to 1785.
The system included 39 stepped locks and a series of bascule bridges and viaducts. Its most notable structure was the 400-foot-long Kelvin Aqueduct, which was the largest structure of its kind at the time.
The Canal Engineer was John Smeaton, well known for his design of the Eddystone Lighthouse.  
Resources 
Jean Lindsay, The Canals of Scotland, David & Charles, 1968. 
The Forth & Clyde Canal is recognized as the world's first civil engineering designed and constructed public-works project, a sea-to-sea ship canal constructed with no natural waterways included on its route.
Image Credit
Courtesy Wikipedia/Michel Van den Berghe (CC BY-SA 2.0)