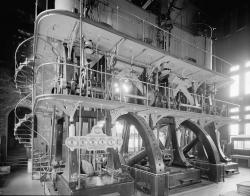 Address1
Chestnut Hill Pumping Station
Address2
2436 Beacon Street
This machine is an unusual triple-expansion, three-crank rocker engine, which in its day was a high-capacity unit providing outstanding performance for the Boston Water Works Corporation. Designed by Erasmus Darwin Leavitt, Jr. (1836-1916), Engine No. 3 was installed in 1894 to a high-service pumping facility on the south side of the Chestnut Hill Reservoir in Brighton.
This steam engine made use of Leavitt's vertical and inverted cylinders with four gridiron valves each activated by its own cam. Steam jackets were applied to the heads and barrels of each cylinder with tubular reheaters in between. Steam at boiler pressure was supplied to all jackets and to the tubular reheaters, enabling expanded steam to pass through the high-pressure then low-pressure cylinders. High velocity was achieved through the pump valve mechanism, introduced by Leavitt a year earlier, based on the design from Austrian Professor Riedler from Berlin.
**Current redevelopment activities to establish a plan to reuse the waterworks site began August 2000. The historic buildings of the Chestnut Hill Waterworks are no longer needed, other than for the emergency pumps, and the site will be declared surplus by 2002. The buildings are suffering from deferred maintenance and were listed in Historic Massachusetts' 1998 list of the state's Ten Most Endangered Historic Resources.
Unusual triple-expansion, three-crank "rocker" engine, driving high-capacity, high-speed pumps.
Image Credit
Public Domain (National Park Service)