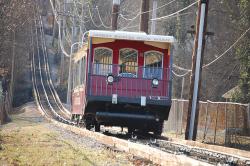 Address1
Lookout Mountain
Address2
827 East Brow Road
At the mountain where the Civil War's Battle Above the Clouds was waged, tourist business has thrived from the building of its first toll road (Whiteside Pike) in 1857 to present day.
More than 75,000 tourists a year were visiting the site when the war interceded. Tourism was not enthusiastically revived again until the 1880s when, in bitter competition for the tourist trade, a narrow-gage incline was built in 1886 to reach the site of a new hotel. In competition with this incline, another incline was built, called the Broad Gauge Railroad, by June 1889, which covered 15 miles from the downtown Union Railroad up to the top of the mountain, a trip of over an hour. Financial problems plagued the Broad Gauge, however, causing today's present incline to be planned, from the base to the top of the mountain. John T. Crass formed the Lookout Mountain Incline Railway Company, which built a short, fast incline up the steepest part of the mountain by November 16, 1895. Its success closed down the competitors by 1900, and continues uninterrupted today.
The incline, 1,972 feet long and rising 1,450 feet, is superbly designed to suit its location. It makes use of a variable grade, ranging up to 72.7 percent near the top, to compensate for the changing weight of the cables as its cars move. One of the cars has flanges on the inside of its wheels, the other on the outside, allowing the cars to pass midway with no moving parts in the track turnouts. Both cars have self-contained emergency brakes. Originally powered by steam, the incline now is driven by two 100-horsepower motors. Present incline cars were installed in 1987.
19th-century 3-rail incline
Image Credit
Courtesy Flickr/Duane Tate (CC BY 2.0)