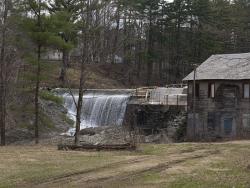 Address2
55 and 57 Ascutney St.
Ithamar A. Beard, an engineer of some prominence in New England, surveyed the mill brook and selected the best site for a storage dam. Contractor Simeon Cobb, knowledgeable of contemporary civil engineering practices, made major changes to the dam's original design, converting the linear dam into a gentle arch.
As early as 1767, several saw and grist mills were operating along Mill Brook in Windsor, Vermont. During periods of low water flow in the creek, though, the mills stood idle. The Ascutney Mill Dam Company was formed to build an upstream dam that would regulate the water flow and supply a constant source of power to the mills.
Built of cut granite, the Ascutney Mill Dam was one of the first gravity-arch dams built in the United States, and possibly the oldest masonry dam of significant size. Construction began in mid-April 1834, and was completed by mid-November. The original dam had a near-vertical downstream face built in an arch form.
Water filled up behind the dam each winter and was allowed to flow over the spillway the following spring. Much to the concern of local citizens, water and ice falling over the crest and 40 feet to the ledge below caused noise and vibrations throughout the village. Inspections found that the vibrations caused no damage to the dam, but a stone buttress was built below the dam to stop the vibrations.
Facts
The dam is 40 feet high and 360 feet long. It is 36 feet thick at the base and 2 feet thick at the crest. The ratio of base width to height, 0.9, is the ideal standard proportion to this day.
Image Credit
Courtesy Wikipedia/Ymblanter (CC BY-SA 3.0)