A Brief History of Mars Probes
Perseverance may be NASA's most sophisticated rover yet, but it's only the latest chapter in a long history of innovation and experimentation on the Red Planet. 
By:
Inventor: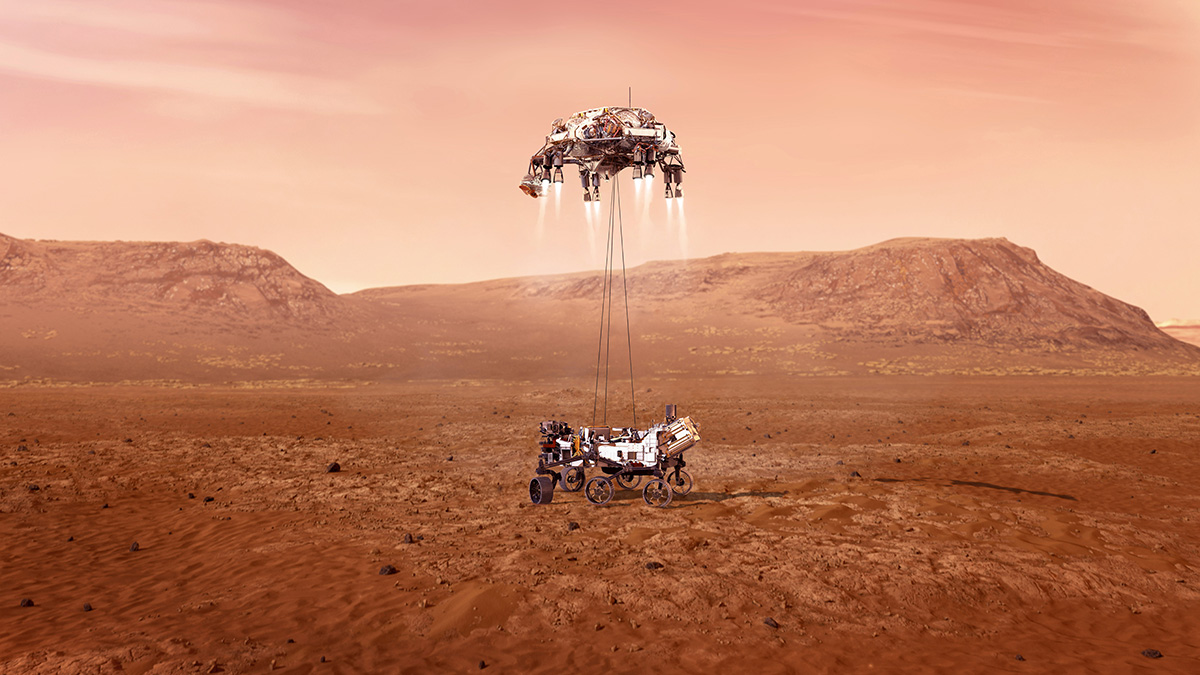 When Mariner 4 beamed back the first fly-by images of Mars in 1964, NASA scientists — and the world at large — were both fascinated and dismayed by what they saw. For centuries, astronomers and space observers had imagined the fourth planet from the sun to be not unlike our own, an extraterrestrial oasis replete with water, forest, and even ancient civilizations. "The planet is not a desert of arid rocks," wrote one Italian scientist in 1887. "It lives." Even as late as the 20th century, observers continued to speculate about the presence of life on Mars — a theory they expected the first probes to confirm.
Instead, the two dozen grainy, back-and-white images sent back by Mariner 4 revealed just the opposite. Mars was little more than a barren desert, covered in lunar-like craters, rocks, and dust. It was a place more like the moon than the Earth — and apparently as devoid of life. 
Only a handful of Mars probes — less than 40 percent — have been successful, underscoring the difficulties posed by interplanetary exploration and travel.
Since then, over 40 probes have been sent to the Red Planet, each one an attempt to uncover more details about the history and geography of our solar sibling. Only a handful of these — less than 40 percent — have been successful, underscoring the difficulties posed by interplanetary exploration and travel. At the same time, they've also underscored the persistence of human ingenuity, representing the power of innovation and experimentation in overcoming physical and technical challenges. 
Today, a new generation of Mars probes are set to push these boundaries even further. In February, the United Arab Emirates' Hope spacecraft slipped into orbit around Mars, where it will remain to study atmospheric conditions. Around the same time, China's Tianwen-1 also reached the planet, entering into orbit before landing on its surface to study ice and soil composition. Finally, on February 18, NASA's Perseverance began its Martian descent, ending in a perilous landing attempt that scientists have dubbed the "seven minutes of terror."
Perseverance is NASA's most sophisticated probe yet, equipped with technology that scientists say will give it an edge over previous missions undertaken in the search for life. It's also one of the most ambitious, designed to land in a difficult geographic area, film its own descent, and deploy the first helicopter to ever fly in space. Over the next several months, Perseverance will hunt for signs of fossilized microbials around Mars' Jezero Crater, a now-dry 28-mile-wide basin once thought to be a lake. Importantly, it will also experiment with converting carbon dioxide to oxygen, paving the way for future human habitation on the Red Planet. 
But, like the history of space exploration as a whole, Perseverance is also a product of previous missions to Mars, the result of years of trial and error — mankind's own six decades of terror. To put the probe in context, then — and to see how technology has transformed our understanding of the Red Planet — it's worth looking back at past Mars probes amid these new ventures. 
Mariner missions
As the U.S. and USSR raced to put a man in space — and eventually on the moon — in the 1960s, they also put their sights on a further target: Mars. Though both countries sent probes to the Red Planet during this time, it was the U.S. — specifically with its Mariner missions — that saw the greatest success.

In 1964, Mariner 4 became the the first spacecraft to complete a successful fly-by of Mars, beaming back photos that gave us our first close-up look at the planet's surface. The probe was a near-identical model to Mariner 3, which had malfunctioned on its voyage three weeks before. Both were relatively small crafts, weighing less than a ton; both featured four solar panels attached to octagonal magnesium frames, plus a host of other scientific instruments. Mariner 4 was launched on November 28, 1964, and reached Mars eight months later. 
The 21 grainy, black-and-white photos that Mariner 4 sent back captured several distinct features of Mars' landscape, including lunar-type craters and mountain ranges. But a more thorough picture of the planet emerged in 1972, when Mariner 9 became the first probe to fall into orbit around Mars. Over the course of a year, Mariner 9 sent back over 7,000 images of Mars' surface, plus the first hi-resolution images of the moons Phobos and Deimos. 
Viking 1 & 2
Following the success of the Mariner missions, NASA continued to send probes to the Red Planet. Again, the U.S. trumped its Soviet competitor: while the USSR's Mars 3 briefly touched down on the Martian surface in 1971 before going black, NASA's Viking 1 and 2 succeeded in carrying out prolonged missions three years later.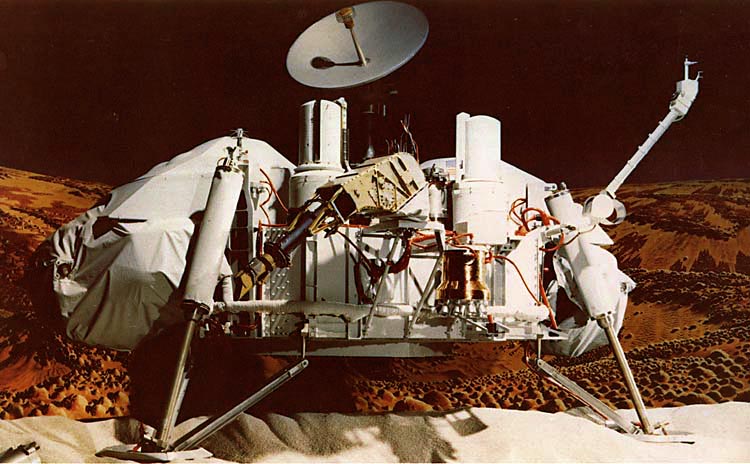 Weighing nearly a ton each, Viking 1 and 2 incorporated orbiters modeled after the later Mariner missions, but added to them lander vehicles that detached for independent descent to the planet's surface. Consisting of six-sided aluminum bases supported on three extended legs, the landers were also equipped with a host of cutting-edge scientific instruments designed to study the Martian environment, including meteorological equipment, 360-degree scan cameras that took colored panoramas of the geography, and sampler arms and on-board labs that collected and analyzed soil. Both crafts were powered by radioisotope thermoelectric generators — essentially nuclear reactors. 
Viking 1 was launched from the Kennedy Space Center atop a Titan III-E rocket on August 20, 1975, touching down on the western slopes of Chryse Pantiia in July of the following year. Viking 2 was launched on November 9, 1975, landing on the Martian equator in September of 1976. Both operated far beyond their designated lifetimes, sending back a trove of information about the planet. And yet the central question of the Viking missions — whether Mars harbored signs of life — went unanswered: while their experiments detected mysterious chemical activity in the Martian soil, the results remained inconclusive. 
Pathfinder
Though technically successful, the discouraging findings during the Viking 1 and 2 missions triggered a twenty year lull in interest surrounding Mars. It wasn't until the 1990s that NASA finally returned to the Red Planet, in a series of missions that were met with both failure and triumph. In 1992, the Mars Observer dropped out of sight three days before it was scheduled to enter orbit; in 1998, the Mars Climate Orbiter incinerated in orbit, while the Mars Polar Lander disappeared on arrival a month later. 
The most successful probe took place between those missions, when Mars Pathfinder lander delivered a stationary lander alongside the first robotic "rover" to the Martian surface on July 4, 1997. The first in NASA's Discovery program, the mission's primary objective was to demonstrate the feasibility of low-cost landings on the Martian surface. 
Pathfinder was also the first to utilize a new landing system, featuring a series of giant airbags that encased the craft and cushioned its impact. On the surface, the six-wheeled rover, dubbed Sojourner, explored the area surrounding the lander. Both crafts operated until 1997, returning more than 17,000 images between them, as well as more than 15 chemical analyses of rocks and soil and extensive data on winds and other weather factors. 
Spirit & Opportunity
In January 2004, NASA landed two new rovers on Mars — Spirit and Opportunity. Carrying identical sets of science instruments designed to search for water in rock and soil, each rover was placed on opposite ends of the planet, with Spirit touching down at Gusev Crater, a possible former lake site, and Opportunity landing at Meridiani Planum, where mineral deposits suggested that Mars had a wet history.
See also: "How I Took Photos on Mars" by Jim Bell
Though also encased in air bags upon landing, Spirit and Opportunity were designed to be more mobile than the 1997 Pathfinder. They featured lighter frames, more nimble wheels, and a suite of cutting-edge scientific instruments, including special rock abrasion tools that enabled them to peer beneath geological surfaces. Their findings have helped scientists reconstruct Mars' past, suggesting that the planet was once awash in water — and potentially microbial life.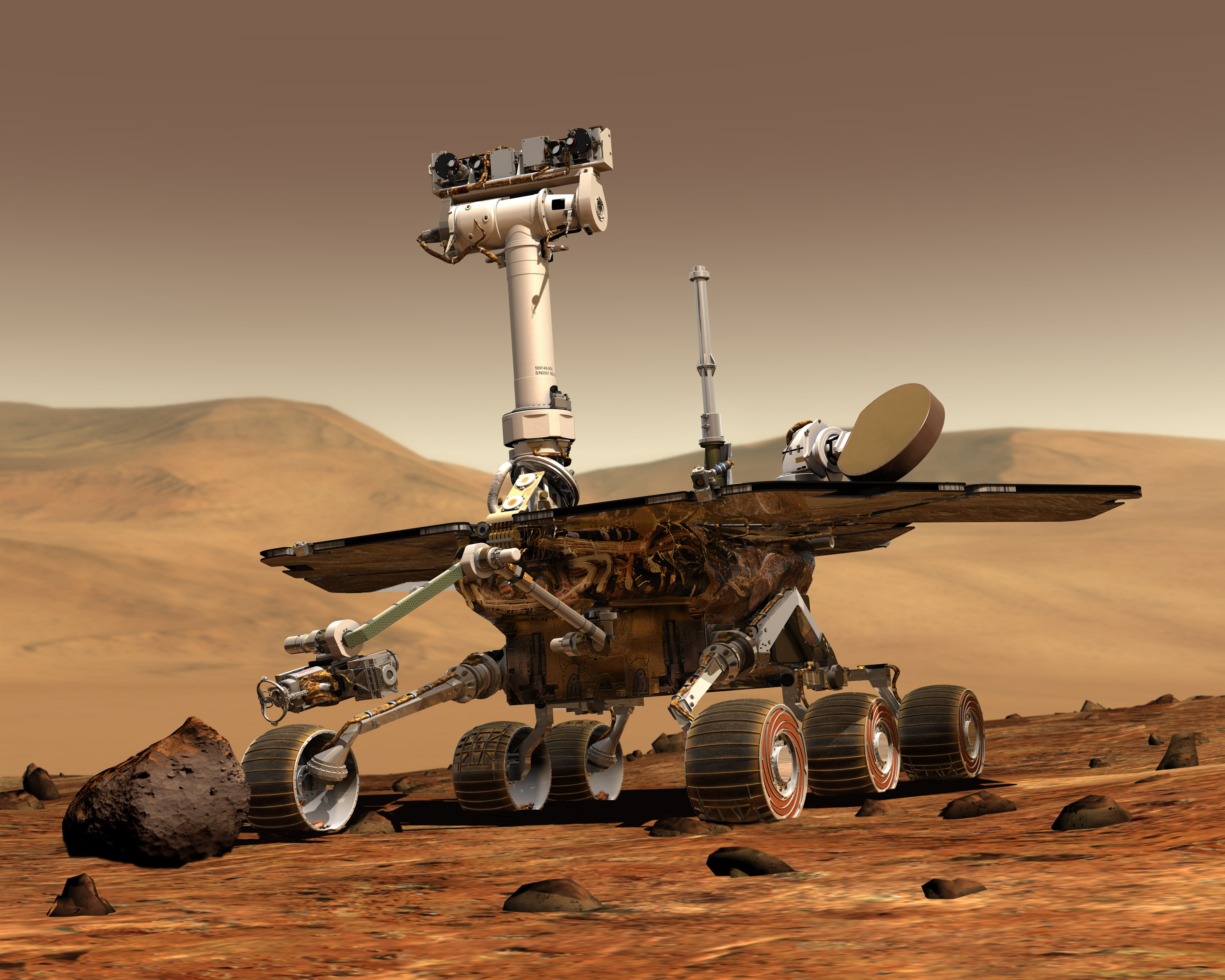 Phoenix
The first lander in NASA's Scout program, Phoenix was launched on August 4, 2007 and landed on Mars on May 25, 2008. The craft was designed to study the history of water and habitability potential in the Martian arctic's ice-rich soil, and, to that end, incorporated a variety of instruments that originally flew on the lost Mars Polar Lander. It also carried tiny ovens and a portable laboratory that allowed it to analyze soil and ice samples collected by its robotic arm, heating them to release volatiles that were then examined for their chemical composition.
Phoenix used a base initially designed by Lockheed Martin for 2001's Mars Surveyor mission, and was powered by solar panels, allowing the craft to continue operating until sunlight waned at the end of the year. The mission officially ended in May 2010. 
Curiosity
While NASA had long relied on technology tested in previous missions to design its Mars probes, in 2011 the agency introduced a totally novel innovation: the Sky Crane. First deployed on the Curiosity rover, the new landing system relied on a separate, rocket-powered craft that would hover over a landing site before lowering the rover on a tether. Though risky, the Sky Crane was necessary given Curiosity's size: weighing nearly a ton, and as big as a small SUV, the rover was the largest and most sophisticated in Mars history.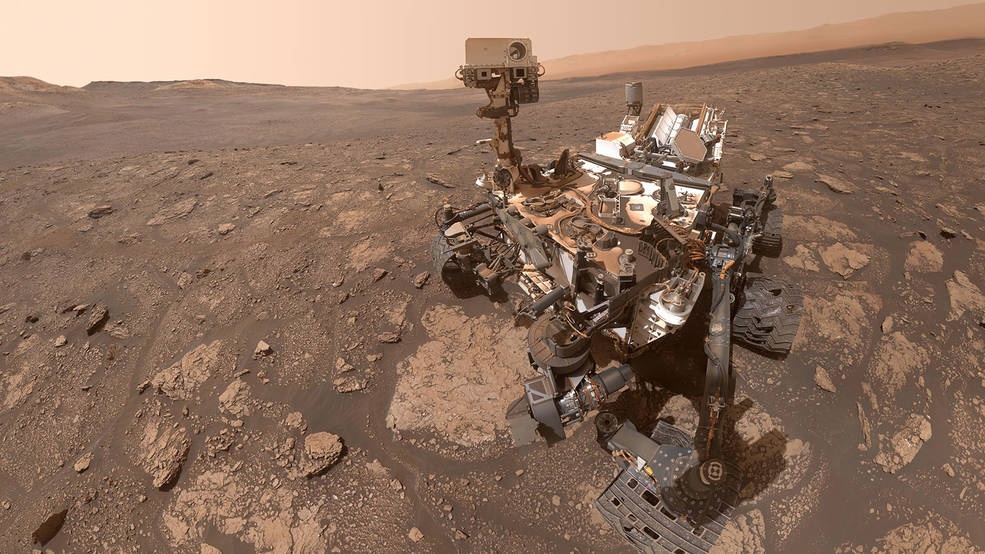 Curiosity landed in Gale Crater on August 5, 2012, and since then has used its arsenal of instruments to study Mars' geological record, determining whether the planet ever had the right environmental conditions to support life. To help do that, its nuclear–powered mobile laboratory includes 10 different scientific tools, including a laser used to vaporize and study small pinpoint spots of rocks at a distance, a drill to collect powdered rock samples, spectrometers, and an X–ray crystallographer. After a year of successful reconnaissance, Curiosity continues to operate on Mars today. 
InSight
Continuing its Discovery and Scout programs, NASA followed Curiosity up with two other Mars probes: MAVEN and InSight. The former entered orbit in 2014, becoming the first to explore Mars' tenuous upper atmosphere. The latter, meanwhile — an upgraded version of 2008's Phoenix lander, equipped with seismographic instruments to study Mars' interior — reached the Martian surface in 2018. 
Perseverance
In February 2021, the latest and most advanced ever built by NASA touched down on Mars. Launched on July 30, 2020, from Cape Canaveral Space Force Station aboard an ULA's Atlas V-541 rocket, Perseverance uses a similar configuration as Curiosity, but it also includes several major tools unique to its mission, many of which have never before been deployed in space.
See also: "Mars Rover Honors Health Care Workers", in our Summer 2020 issue
To study the planet's geology and astrobiology, the craft is equipped with a complex Sample Caching System, consisting of a robotic arm and storage unit that will allow it to retrieve and hold rock and soil samples. NASA hopes to return these samples —  the first from another planet —  back to Earth during future missions.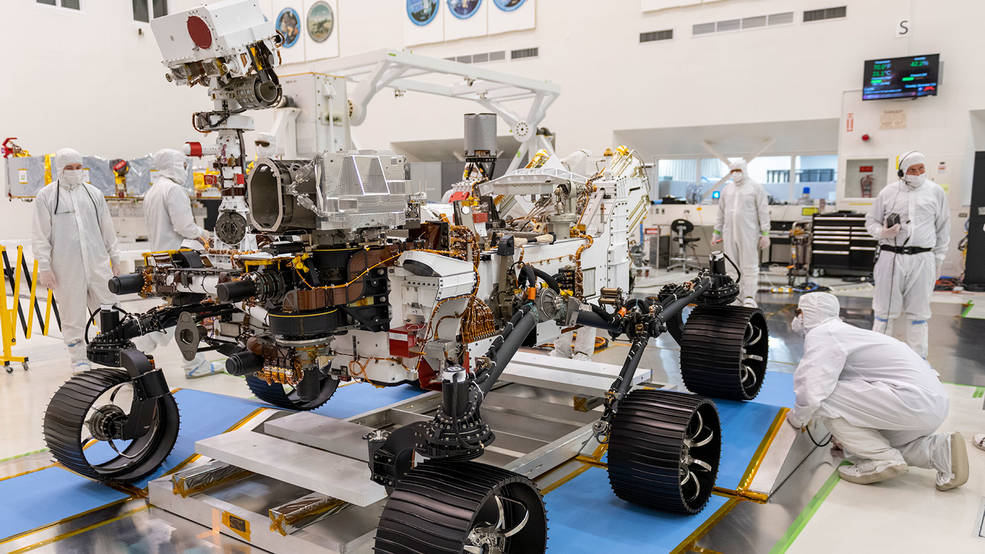 To gauge Mars' future suitability for human habitation, Perseverance also carries a device called MOXIE, or Mars Oxygen In-Situ Resource Utilization Experiment. The size of a car battery, the device is designed to demonstrate that converting Martian carbon dioxide —  which makes up 96% of its atmosphere —  into oxygen is possible. The experiment is crucial for NASA's longterm Mars exploration plans, which involve putting humans on the Red Planet by 2030. 
Perseverance also carries the Ingenuity Mars Helicopter, a small aerial device that scientists hope will make the first experimental flight test on another planet.
Scientists described its landing as the "seven minutes of terror," since both the craft's size — larger even than 2011's Curiosity —  and the unpredictability of the terrain at Jezero Crater made touch-down particularly difficult. Like Curiosity, Perseverance was slowed by parachute on descent, then lowered to the surface using NASA's Sky Crane system. But its landing was also made possible by its Range Trigger and Terrain-Relative Navigation tools, which allowed the craft to calculate the distance to impact and negotiate the crater's rocky surface. 
For the next several months, Perseverance will roam the dusty basin of Jezero Crater in search of life. The mission has already produced some of the most impressive visuals of the Red Planet yet — including a video of the rover's own history-making descent.