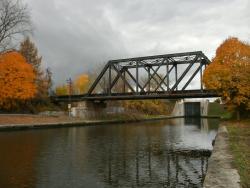 Address1
Hudson River to Lake Erie
In its day, the famous Erie Canal was the world's longest canal and America's greatest engineering feat. It was the principal route for emigrants from the East and agricultural products from the West. Before construction of the canal, New York City was the nation's fifth largest seaport, behind Boston, Baltimore, Philadelphia and New Orleans. Within 15 years of its opening, New York was the busiest port in America, moving tonnages greater than Boston, Baltimore and New Orleans combined.  

In 1817 when construction started, excavating and earthmoving machines had not yet been invented. The only construction equipment available was the pick, level, spade, wheelbarrow, and wagon. With the exception of a few uses of black powder to blast through rock formations, all 363 miles were built by men and horses alone.  

Facts 
In 1835, just 10 years after completion, canal enlargement began from 40 feet wide to 70 feet, and from 4 feet deep to 7 feet.
The challenge of the canal led to adaptations and innovations among them the horsedrawn plow and scraper. Among other developments here were cement mortar, block-and-fall, a stump-puller, wheeled windlass, and the use of horses and wagons for tamping.
American engineers who apprenticed on the Erie Canal learned such skills as: how to design and build structures like locks, bridges, and aqueducts; how to make design decisions like whether to route the canal around the head of a valley or to build an aqueduct across the valley; and how to manage large and complex construction projects employing many workers.  
Resources 
Klees, Emerson. The Erie Canal in the Finger Lakes region : the heart of New York State. (Friends of the Finger Lakes Publishing, 1996)
Larkin, F. Daniel. New York State Canals: a short history. (Purple Mountain Press, 1998)
Modern Marvels : the Erie Canal. (The History Channel, c2000) VHS ; approx. 50 min.
Shaw, Ronald E. Erie Water West : a history of the Erie Canal, 1792-1854. (University of Kentucky Press, 1966)
Whitford, Nobel E. History of the Canal System of the State of New York : together with brief histories of the canals of the United States and Canada. (Brandow Printing Company,1906) 2 vols. 
In its day, the Erie Canal was the world's longest canal and America's greatest engineering feat.
Image Credit
Courtesy Flickr/Doug Kerr (CC BY-SA 2.0)