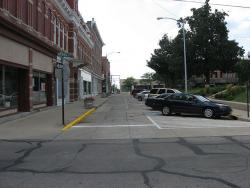 Address1
101-163 E Court Avenue
"This is the first Portland cement concrete street built in the United States ... Here started the better roads movement which has given our citizens from coast to coast swift and sure transportation."  
- Historic marker, Bellefontaine, Ohio, celebrating the 50th anniversary of America's first concrete pavement, 1941 
Even before the invention of the automobile, Americans were thinking about better ways to pave city streets. In 1889, George W. Bartholomew, a former hardware-store owner and part-time druggist in Bellefontaine, Ohio, began experimenting with the limestone and clay found in local marl deposits. While manufactured cement had been readily available in Europe since the middle of the 19th century, few Americans were able to match its quality.
Believing he had discovered an improved recipe for domestic cement-making, Bartholomew purchased the local marl pits, started the Buckeye Portland Cement Company, and in 1891, convinced city officials to let him pave an eight-foot-wide strip of Main Street with a mixture of sand, stone, and cement. Two years later, city officials agreed to let Bartholomew pave an entire block of Court Avenue between Main Street and Opera Street, which today remains the oldest concrete street in America. 
Facts  
A section of Bellefontaine's concrete pavement won first prize for achievement in engineering technology at Chicago's World Fair in 1893. Later tests revealed the pavement, which trapped many small air bubbles, attained a breaking strength of 8,000 pounds per square inch, much stronger than most concrete used today. 
The first concrete pavement in the world was built in Inverness, Scotland, in 1865. Some of the concrete pavement laid in Edinburgh, Scotland, in 1872 is still in use today. One of the earliest uses of concrete in America was in the construction of a Greek revival house in New York City in 1835. In the mid-1850s, New York Tribune editor Horace Greeley built a three-and-a-half story barn in upstate New York that convinced others to build houses of concrete, several of which survive to this day. 
Concrete is made by mixing sand and stone in a base of cement. The cement material we are familiar with today, generally called Portland cement, was first manufactured in 1824 by an English bricklayer named Joseph Aspdin, who received a patent for it. He named it Portland cement because it reminded him of stone he had seen on the Isle of Portland. 
Aspdin's Portland cement mixture soon became the universal standard, aided in large part by its widespread use in constructing the sewers of London in the 1860s. Cement-making in America was slow to develop a reputation for reliability, beginning in 1872 with the first Portland cement produced in the U.S. at a plant in Coplay, Pennsylvania. 
The use of cement made of naturally found materials dates from the early Romans. It was not until French engineer J.L. Vicat formalized the chemical understanding of cement making in the early 19th century, however, that "manufactured" cement truly entered the modern age. 
While the first application of concrete pavement in Bellefontaine, which is located 50 miles northwest of Columbus, helped convince builders of its practicality, a series of demonstrations closer to the nascent automobile industry in Wayne County, Michigan, a decade later greatly contributed to its rising popularity. 
At a ceremony in 1976 designating the first concrete-paved block of Court Avenue in Bellefontaine a National Historic Civil Engineering Landmark, the city's mayor, William S. Meyer, reflecting on the significance of modern paving materials, said, "The successful blending of concrete into a street material of such strength and durability paved the way, literally, for the vast network of streets and highways that has made our modern transportation system possible."
The first engineering use of Portland cement concrete street pavement in public road construction represented a milestone for civil engineering.
Image Credit
Public Domain (Author's Choice)