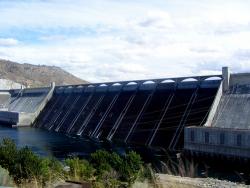 Address2
Lake Roosevelt National Rec Area
The massive Grand Coulee Dam, on the Columbia River, is the largest concrete structure in the U.S., the largest hydroelectric facility in the U.S., and the sixth-largest hydroelectric facility in the world. It provides irrigation for up to 1.1 million acres of agricultural lands and the hydroelectric complex maintains a generating capacity of 6.8 million kilowatts. It also serves as the primary flood control for the Columbia River basin (with a capacity of 5.18 million acre-feet of water) and provides recreational opportunities on the 150-mile-long Franklin D. Roosevelt Lake. It is the uppermost of 11 dams that comprise the Columbia River Basin Project.
Grand Coulee Dam was critical to the war efforts during World War II, generating abundant electrical power that was crucial for aluminum production for war machinery.
Resource
Murray Cromwell Morgan,  The Dam  (New York: Viking Press, 1954).
Image Credit
Courtesy Flickr; //lucylu (CC BY-ND 2.0)