Jet Packs Take Off
Richard Browning uses the human mind to balance and control flight, producing a new generation of practical (if expensive) jet packs.
Inventor:
It's April 2021. Terrorists have seemingly hijacked an offshore patrol ship. To overtake them, special forces require the vital element of surprise. A speeding rib boat is slowly tailing the vessel. Suddenly, a Marine is launched from it into the air. He flies untethered towards the ship, reaching it in seconds. He then touches down with his flying device and drops a rope ladder so the others can climb up.
The situation is a simulation, a "visit, board, search, and seizure" exercise. The ship is the HMS Tamar, a Royal Navy patrol ship, and the flying man is using a gravity jet suit designed by Richard Browning.
Richard Browning is the founder and chief test pilot of Gravity Industries, which bills itself as being dedicated to "pioneering aeronautical innovation." An ex-Royal Marine reservist and oil trader, Browning started the company in 2017, after setting his mind on one mission: To use the human mind to balance and control the body in flight. 
Humans have longed to soar through the air like a bird for millennia.
Throughout history, several people had tried to achieve solo flight. In the 9th century, Andalusi polymath Abbas ibn Firnas covered himself and a pair of wings in feathers and jumped from the Tower of Cordoba. He was injured while landing after flying a considerable distance, according to witnesses. His back was hurt, "for not knowing that birds when they alight come down upon their tails, he forgot to provide himself with one", explained Algerian historian Ahmed Mohammed al-Maqqari later.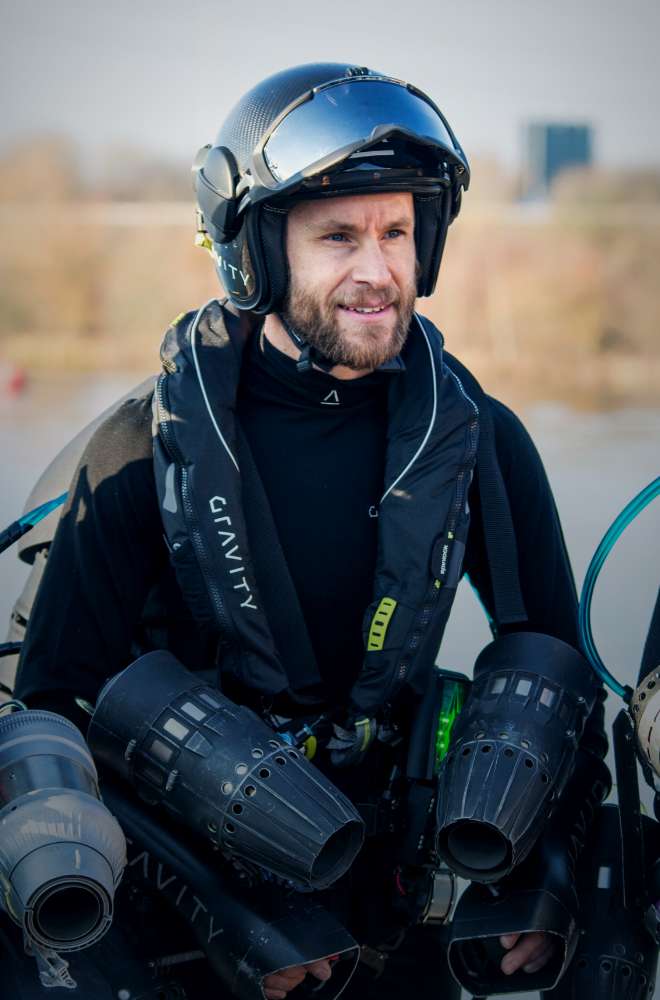 Abbas wasn't the last one. In the early 11th century, Benedictine monk Eilmer of Malmesbury, having read the story of Daedalus and Icarus (and seemingly undeterred by the fact that it was meant to be a parable), fixed wings to his hands and launched himself from yet another tower. Just like Abbas before him, Eilmer forgot the importance of a tail to maintain equilibrium. Before breaking his legs on landing, he's reported to have remained airborne for 15 seconds.
During his lifetime, Renaissance genius Leonardo Da Vinci created numerous journal entries detailing ideas for flying machines. From enormous wings to reed and tafeffa helicopters and gliders, his inventions followed this principle: "Things of the mind, untested by the senses, are useless". 
In 1928, writer Edward E. Smith became one of the first to put the dream of solo flight on paper when he described a new element that allowed humans to achieve flight in his novel "The Skylark of Space". Smith soon became a kind of inspiration for future imaginings of jet pack technology, such as 1949's silver screen "Rocket Man" and James Bond 1965's "Thunderball"  — an actual rocket belt capable of 21 seconds of flight.
This last design was so expensive and fuel-consuming that it disappeared until the 1990s, when Michael Jackson used it in his 1994's Dangerous World Tour. Several jet pack designs that were successful but limited in capabilities followed, such as Yves Rossy's Wingpack in 2006, Troy Widgery's H202 in 2007, and Jetlev's water-powered pack 2012. However, it would be Browning who finally took jet pack ambitions to the next level.
Browning himself is no stranger to invention  —  or to the desire to fly. His father, Michael Browning, was an aeronautical engineer and innovator who left helicopter manufacturer Westlands some 30 years ago to pursue his passion independently. Despite creating a number of inventive devices, such as a folding bike and headset-mounted mountain-bike suspensions, he could not make enough money and took his own life in 1994, when Browning was just 15. His unfulfilled ambition, it could be argued, was picked up by his son. 
Browning saw the human mind and body as an amazing construct  —  but one that could be augmented. He had an idea for doing so, one that utilized the same technology that allowed transatlantic flights: Jet engines. Browning first bought a single miniature jet engine and strapped it to a washing machine to see how much force it could produce. Surprising, it was a lot. So he strapped one to a gauntlet. Then he added another engine, and a third, and a fourth. 
Browning believed that the only way to create is to try things and learn by failing. In his case, he failed by falling down — again and again — only to get back up. He went through several unsuccessful designs yet remained determined to learn from his failures. On paper, engines attached to his arms and legs would give him enough thrust. In practice, the legs were difficult to control. Eventually, he found a configuration that allowed him to be in the air for more than six seconds: Four engines on the arms and two connected to his lower back. 
This triangular arrangement is somewhat similar to that found on aircraft, and it facilitates control, although all the maneuverability comes down to human balance. Flying Browning's jet suit is no easy task. It requires an experienced pilot that can deal with all the different, and sometimes rather violent, forces. As an ex-Royal Marine and still in peak physical shape, Browning is able to perform a variety of calisthenic exercises that let him withstand the torque and force of the jet engines.
With adequate training, jet suits have a variety of potential uses. Last September, the sound of two small jet engines broke the calm among the ragged mountains and ribbon lakes of the England's Lake District. Suddenly, figure looking like Iron Man shoots across the grassy knolls of Langdale Pikes, 15 feet in the air. Within minutes, he reaches a woman and a young girl in need of rescue. 
The flying man is Browning, whose jet suit reduced arduous mountain rescue efforts from almost a half hour climb to 90 seconds. If someone had, for example, a cardiac arrest at the top of Helvellyn, the jet suit could help bring a defibrillator in just minutes. 
Richard's jet suit was declared one of Time's best inventions of the year in 2018. His creation demonstrated that, if properly augmented, the human mind and body can achieve incredible things. And this is just the beginning for Gravity Industries. The company has been focusing on media, events, STEM initiatives, and flight training - and is even planning an international jet suit race. Gravity is constantly looking for new uses for its incredible innovation. 
Today, the suit retails for around $430,000 and is capable of reaching speeds of 80 mph. Although it can fly as high as 12,000 feet, with over 300 pounds of thrust and up to 1,050 brake horsepower, it's normally flown much lower to keep the pilot safe, and most tests are done over grass or water. It's a wonder to see Browning gracefully maneuvering through the skies – and knowing that it all began with a microjet strapped to a washing machine.
Through effort and persistence, this maverick's jet suit has become a prime example of human ingenuity. It is also a tribute to those that came before us, and a statement that now inspires an entire generation to dare as "what if…"