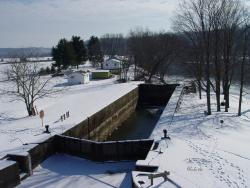 Address2
Muskingum River Lock and Dam Number 10
Most of the locks were 184 feet long and 36 feet wide, able to handle boats up to 160 feet long. The sandstone locks (along with wood miter gates, rock-filled timber-crib dams and bypass canals with guard gates) created a slackwater navigation system stretching over 90 miles.  

Southeastern Ohio's Muskingum River and its navigation system of 10 hand-operated locks dates from 1837 when area pioneers recognized the potential of the river as a shipping route for steam-powered vessels.  The system of locks and dams permitted navigation upriver as far as the Ohio and Erie Canal at Dresden.  

This was one of the earliest slackwater navigation systems built for steamboats in the U.S.  The system included a three-mile, side-cut canal linking the Ohio and Erie Canal to the Muskingum at Dresden, with canal-boat-sized locks, a dam, and a 120-by-22-foot lock at Symmes Creek.   

Commercial shipping flourished on the river for 70 years, but was replaced by rail and motorized transportation after the turn of the century. Today, it is mostly recreational boaters and anglers who use the hand-operated locks to navigate the river from a point just north of Zanesville to Marietta.  

Facts 
Ohio began surveys for its canals in 1822, but politics and topographical issues precluded most of the Muskingum Valley from the initial phase of the development of the Ohio Canal System.
Most of the locks were 184 feet long and 36 feet wide, able to handle boats up to 160 feet long. The sandstone locks (along with wood miter gates, rock-filled timber-crib dams and bypass canals with guard gates) created a slackwater navigation system stretching over 90 miles.
The River Navigation System was rebuilt from 1880 to 1911 by the U.S. Army Corps of Engineers, and has been operated by the state since 1958.  
Resources 
Shank, William H., PE, Towpaths to Tugboats, American Canal and Transportation Center, 1982. 
The Muskingum River Navigation System, one of the United States' first complete slackwater navigation systems for steam powered vessels, played a key role in economic development of the Greater Ohio River Valley. The project survives as the most intact system of large hand-operated locks in the United States.

Image Credit
Courtesy Flickr/gb_packards (CC BY-ND 2.0)