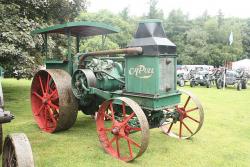 Beginning with the blacksmith shop of German immigrant Meinrad Rumely (1823-1904), this successive family of firms invented and produced a line of agricultural equipment that played a vital role in the evolution of farming based on the muscle of humans and animals to one based on the power of the steam and ultimately the internal-combustion engine. The M. & J. Rumely Co. became the M. Rumely Co., and then the Advance Rumely Co. The Allis-Chalmers Company acquired the business in 1931. Although Allis-Chalmers is known for other products, such as gas engines and turbines, the company today is one of the country's largest producer of plows, discs, harrows, planters, self-propelled cotton strippers and cultivators. The 112-acre plant, which includes some of the original Rumely buildings, is located on Pine Lake Ave. A memorial stone, which includes ASME's landmark plaque, marks the original site of the blacksmith shop at La Porte Hospital (since 1972) on Lincolnway.
In the United States, the mechanization of farming took place mid-19th century, alongside the rapid developments of the Industrial Revolution. Profound changes have taken place since then. (From 1776 to 1908, the labor required to produce a bushel of wheat decreased from 2-3 hours to 10 minutes, according Dr. Edward Rumely in his autobiography. In the last 100 years, according to US Dept. of Agriculture's farm labor statistics, the farm population dropped from some 40 percent of the U.S. population to less than 3 percent.) Such equipment, from tractors and cultivators to a wide variety of harvesting machinery, has enabled an explosion in agricultural productivity for both food and fibers. In the process, agricultural mechanization also contributed to a massive shift from rural to urban, along with similarly massive changes in the nature of work, the consumer economy, and even the size and nature of families.
Like many similar stories during this time, the flow of technology followed the immigrants. In 1853, the two Rumely brothers, Meinrad and John, started their small shop in La Porte for the manufacture of corn shelters and horse-powered machines and the casting of irons for the railroad shops. By 1869, they were the town's largest employer. Meinrad Rumely had learned the millwright trade in France before he immigrated to the United States in 1848. He and his brother settled in La Porte after several years because there was a new railroad shop and yard being built to support the main line between New York and Chicago. (This shop moved to Elkhart in 1870.)
Meinrad had the ability to visualize complex machines and their mechanisms. He could organize and manage people, materials, and processes. The company quickly grew to 15-20 employees and was pouring 1 tone of castings a day. It produced the separator (threshing machine) in 1857, and two years later, won first prize for threshing at the Illinois State Fair in Chicago. The brothers soon began to produce stationary steam engines. In 1869, employees totaled 35 and sales were $50,000 a year.
In 1872, the Rumely Company developed a portable steam engine that could be horse-drawn from one farmyard to another and linked to a thresher with a driving belt. A decade later, it introduced a steam traction engine that pulled the threshing machine and water wagon. (The brothers had won eight first prizes in threshing by then.) In 1886 a new straw-burning engine was introduced. A new foundry opened in 1890. A year later a self-feeder was added to the line. By 1892, new boiler and blacksmith shops were added. A clover hulling machine was added in 1901.
At Meinrad Rumely's death in 1904, the company had 300 employees and had been granted at least five U.S. patents related to agricultural equipment. Four others would go on to provide key leadership in engineering and product development:
William Nicholas Rumely (1858-1936), who was a member of ASME (1885) and an honorary member of the American Society of Agricultural Engineers, led the design and development activity of steam traction engines (tractors) and separators. He also produced oil-burning tractors. He was granted at least eight U.S. patents related to agricultural equipment, including one anti-friction alloy (June 5, 1900, #650,911). Having attended Notre Dame University's preparatory school 1868-73, he studied mechanical drawing at Stevens Institute, Hoboken, N.J., in 1878-79.
Edward A. Rumely, M.D., joined the company in 1907 and became the driving force behind rapid growth prior to 1912.
John Alstyne Secor joined the company in 1908, having worked with his father (who built steam engines) and previously operated Secor Marine Propeller Company and manufactured engines and generators for General Power Company. He began his design work on the Kerosene Annie took eight months, with field trials beginning in 1909. He was granted nearly 20 U.S. patents, related mostly to engines.
William H. C. Higgins Jr. collaborated on patents with his uncle, John Secor, and held at least 13 patents of his own for internal combustion engines and carburetion equipment.
Image Credit
Courtesy Wikipedia/BulldozerD11 (CC BY-SA 3.0)