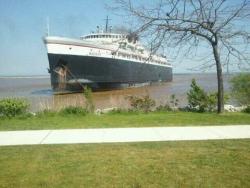 Address2
702 S James Street
The two 3,500-hp steeple compound Unaflow steam engines powering the S.S. Badger represent one of the last types of reciprocating marine steam engines. Built by the Skinner Engine Company, most Unaflow engines are single expansion. These feature tandem high- and low-pressure cylinders separated by a common head. The Badger's four Foster-Wheeler Type D marine boilers, which supply 470-psig steam to the engines, are among the last coal-fired marine boilers built. 

Now a rare mode of transportation, the Badger ferries car-passengers between Ludington, Michigan, and Manitowoc, Wisconsin. Having endured for more than 40 years, the Badger was in continuous service with an exception between November 1990 to May 1992, when the ferry changed ownership. Improved rail switching through Chicago made rail freight around the lake more economical and brought the age of this type of ferry to a close. The Badger was renovated in 1991 by owner Charles Conrad of Holland, Michigan. Renovations included a lounge, restaurant, retail shop, museum, and updated staterooms. No major mechanical overhaul was needed. 

The Badger was built by the Christy Corporation of Sturgeon Bay, Wisconsin, for the Chesapeake & Ohio Railroad. It was launched on September 6, 1952, and began regular service in 1953. At a cost of $5 million, it was (and is) the largest of the Great Lakes rail car ferries ever built. Each engine is rated at 3,500 SHP at 118 rpm to give a total of 7,000 SHP, which drives the Badger across Lake Michigan at a maximum speed of 24 mph (usually at 18 mph, with a running rpm at 50-95).
one of the last operating American steam lake boats with reciprocating engines and coal-fired boilers
Image Credit
Courtesy Flickr/ssbadger (CC BY 2.0)