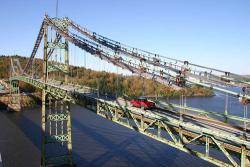 Designed by David B. Steinman, of Robinson & Steinman, New York City, the Waldo-Hancock suspension Bridge is a significant example of Steinman's work. David Steinman is considered among the most important suspension bridge designers of the 20th century. He earned an engineering degree from Columbia University in 1909 and went on to apprentice with Gustav Lindenthal, then at work on New York's Hell Gate Bridge. In the 1920's, Steinman emerged as an outstanding and innovative suspension bridge designer.
The Waldo-Hancock Suspension Bridge is a historically and technologically significant example of the suspension bridge type. It is the first suspension bridge built with the Vierendeel truss towers. Named after Belgian engineer Arthur Vierendeel, the chief characteristic is the absence of diagonals as rigid frame construction connects the posts to the chords. The advantage is the economy of material and construction as well as aesthetics. These towers became almost standard in suspension bridge design. Steinman combined the innovative Vierendeel truss design with a successful attempt to arrange the spacing and proportions of the members for aesthetic affect. He sought to emphasize straight lines with simple elements in repetition and alteration in order make the design compatible with the natural rocky setting.
In addition to its innovative design, the bridge has been a key structure on U.S. Route 1 connecting down east Maine to the international maritime commerce of the coast. With its completion, travelers driving to the coast no longer needed to take an overcrowded and out-dated ferry to get there. The Waldo-Hancock Suspension Bridge made the trip much faster and easier for everyone.
On December 30, 2006, the Waldo-Hancock Bridge was officially closed and the replacement bridge, Penobscot Narrows Bridge, was opened to traffic. The Waldo-Hancock Bridge was completely removed in 2013.
Resources
Petroski, Henry. Engineers of Dreams: Great Bridge Builders and Spanning America, Vintage Press, 1996. 
Plowden, David. Bridges: The Spans of North America, W.W. Norton and Company, 2001.
Image Credit
Courtesy Flickr/Justin Russell (CC BY 2.0)