Vera Rubin, Dark Matter
Stargazing as a girl led to transforming our knowledge of the universe.
By:
As a child, Vera Rubin spent hours peering through a telescope at the stars visible from her bedroom window. Her parents weren't sure what to do about this interest in stargazing. Her mother felt young Vera was wasting her time spending hours gazing at the stars through a little cardboard telescope. Her father – a mathematician and electrical engineer – recognized that she had a gift for science, but he knew women weren't welcome in technical fields, and that she'd encounter hostility and rejection if she pursued her interest in astronomy.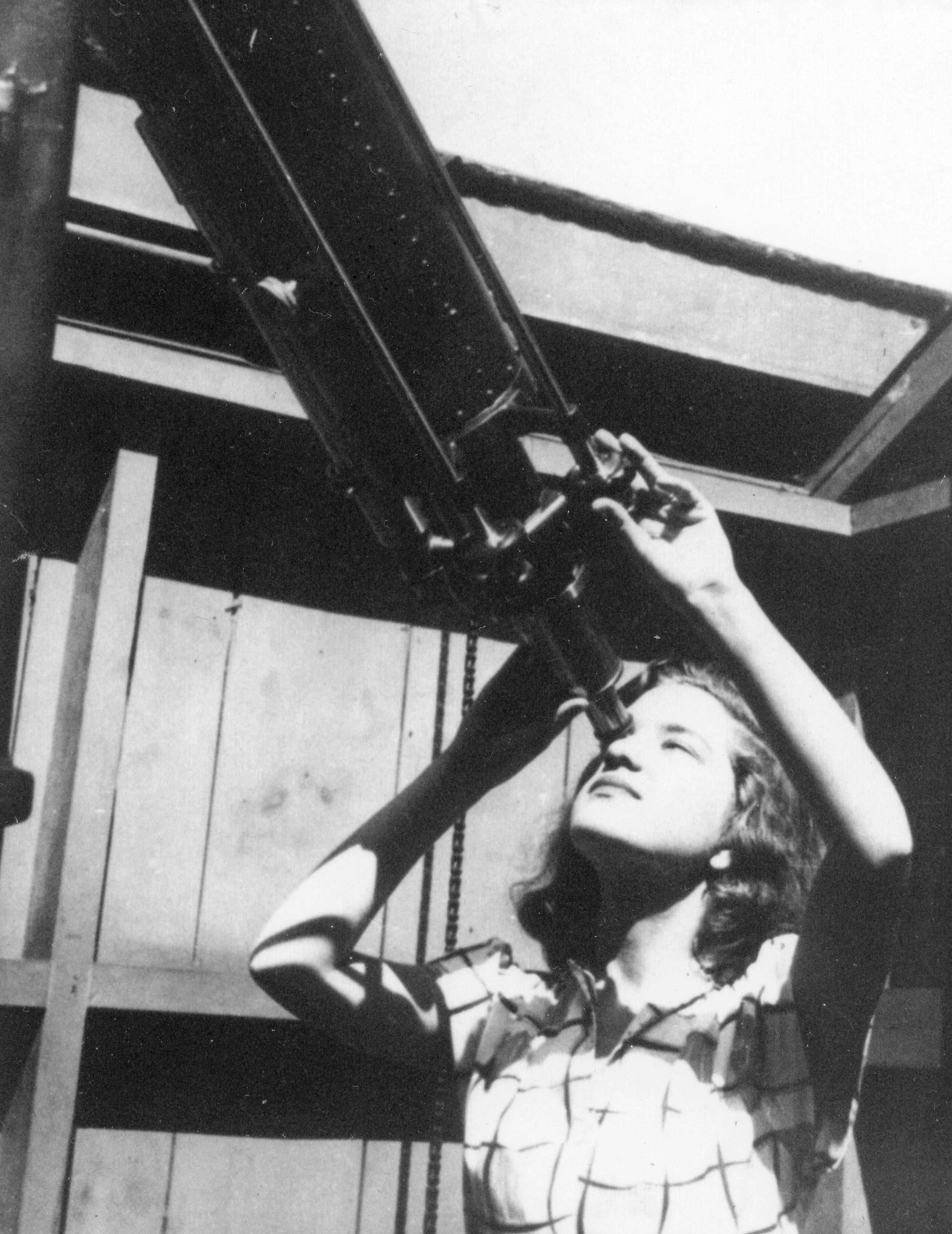 That's exactly what happened. But it didn't stop Rubin from revolutionizing humanity's understanding of the universe – and becoming an enthusiastic promoter and mentor for other young women pursuing careers in science.
Rubin's new theories about how dark matter controlled the universe were ignored until she published data from 40 galaxies.

Rubin's formal education in astronomy began with a bachelor's degree at Vassar. She promptly applied to the graduate program at Princeton – which rejected her after explaining that the program was only open to men. She found acceptance at Cornell, but her work was attacked from the beginning. She published a novel structure of the universe – an idea that turned out to be exactly right – but it got a chilly reception from other astronomers. Her next ideas were ignored. Rubin concluded that she needed to investigate topics so rooted in data that no one could argue or ignore her conclusions.
That led to a research post at the Carnegie Institution, where she met physicist Kent Ford, who was working on a design for a dramatically improved spectroscope. The pair agreed to collaborate, with Rubin bolting Ford's instrument to a large telescope to obtain the most accurate measurements of galactic motion ever.

It worked like this: Rubin aimed the telescope at various parts of the nearest large galaxy, in the constellation Andromeda. Ford's instrument was sensitive enough to measure the speed of the stars in each section, calculating the doppler shift, which causes receding stars to shift to the red, and approaching stars to shift blue. They expected stars near the galaxy's heart would whiz around rapidly and stars in the outer arms would orbit slowly. That was the prevailing theory.

But that's not what they found. The outer stars moved as fast as the ones near the center. It seemed to contradict everything known about gravity and motion since the age of Newton. "The surprises came very quickly," Rubin wrote later. "By the end of the first night, we were puzzled by the shape of the rotation curve."

The exquisitely precise measurements could only be explained if the galaxy had more matter than was visible. Rubin determined that at least 80 percent of the galaxy consisted of "dark matter." Rubin's publication met the same skepticism she'd face before, so she proceeded to take similar measurements of 40 other galaxies. The data proved it – the universe is dominated by dark matter, which controls the motions of stars, galaxies, and provides an underlying structure – a kind of skeleton – to the overall universe.

That last discovery had a special meaning to Rubin. It proved that the prediction she made years earlier—which had encountered so much hostility – was correct.

These developments propelled Rubin to the forefront of astronomy, a position she used to encourage and mentor young women pursuing careers in science. Until her death in 2015, she never forgot the childhood experiences that led to her curiosity about the universe.