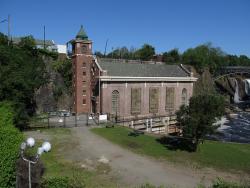 Visionary Alexander Hamilton, the United States' first Secretary of the Treasury, visited the Great Falls of the Passaic River with George Washington in 1778. The 77-foot-high, 280-foot-wide waterfall inspired his dream of abundant, inexpensive energy as the means for economic independence from foreign markets.
In 1791 Hamilton enlisted the aid of some patriots, industrialists, and financiers to form the "Society for Establishing Useful Manufactures" (S.U.M.) specifically to create America's first industrial community. The S.U.M. then hired Pierre Charles l'Enfant and Peter Colt to design and oversee construction of the first raceway and power system in Paterson to harness the Passaic River's energy.
The energy provided by the Great Falls raceway and water power system fostered countless engineering and industrial innovations, including the Colt revolver, the Holland submarine, the Curtiss-Wright aircraft engine, and textile and silk manufacturing which made Paterson famous as the "Silk City."
Facts  
The Society for Establishing Usefull [sic] Manufactures operated the early raceway system from 1794 to 1799 and diverted water from the Passaic behind a wooden dam above the falls. The water then entered into a reservoir and passed through the raceway to a flume and waterwheel to provide power for operating a mill. 
The raceway and power system was modified several times in the 1800's as the use of water power for manufacturing evolved from a simple waterwheel to hydroelectric power. 
The system today represents one of the finest and most extensive remaining collections of engineering, planning, and architectural works of the period of the United States' earliest industrial development.
"In Paterson people did not just invent; they tried everything - a repeating revolver, a submarine, an airplane that could fly across the Atlantic. And Paterson did not just manufacture; it produced articles that redefined the limits of life."
- Christopher Norwood, "About Paterson", Saturday Review Press, 1974
Image Credit
Courtesy Flickr/Ken Lund (CC BY-SA 2.0)