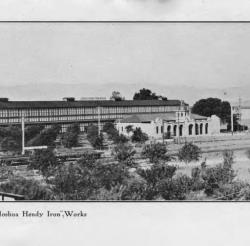 This ironworks exemplified the adaptability required for industrial survival in a dynamic technical environment. It was a major western producer of mechanical equipment used in mining (especially large hydraulic machines), ship propulsion, irrigation, power generation, optical telescope mounts, and nuclear research.
Joshua Hendy started California's first redwood lumber mill shortly after sailing around Cape Horn to San Francisco Bay in 1849. In 1856 he founded the Iron Works to supply Gold Rush miners with equipment and soon became a leader in the industry. The original works was destroyed by the San Francisco earthquake of 1906. After rebuilding in Sunnyvale, the plant produced mine cars, buckets, stamp mills, ore crushers, and the hydraulic "giants" used to dig the Panama Canal. During World War I, marine steam engines were produced for cargo ships. During the Depression, it survived by producing gates and valves for major dams such as Boulder, Hoover, and Grand Coulee as well as crawler tractors and freight-car wheel pullers. In 1940 the works expanded to build defense products, including a third of all engines built in the United States for Liberty Ships.
Hendy was acquired in 1946 by Westinghouse to make equipment for electrical utilities and was soon producing steam turbines, transformers, switchgear, and motors, as well as continuing production of large hydraulic equipment.
early 20th-century ironworks demonstrating the adaptability required for industrial survival
Image Credit
Public Domain