Searching for Crehore's Sundial
The hunt for a rare sundial by an obscure inventor helps highlight what makes these ancient timepieces so timelessly engrossing 
Inventor: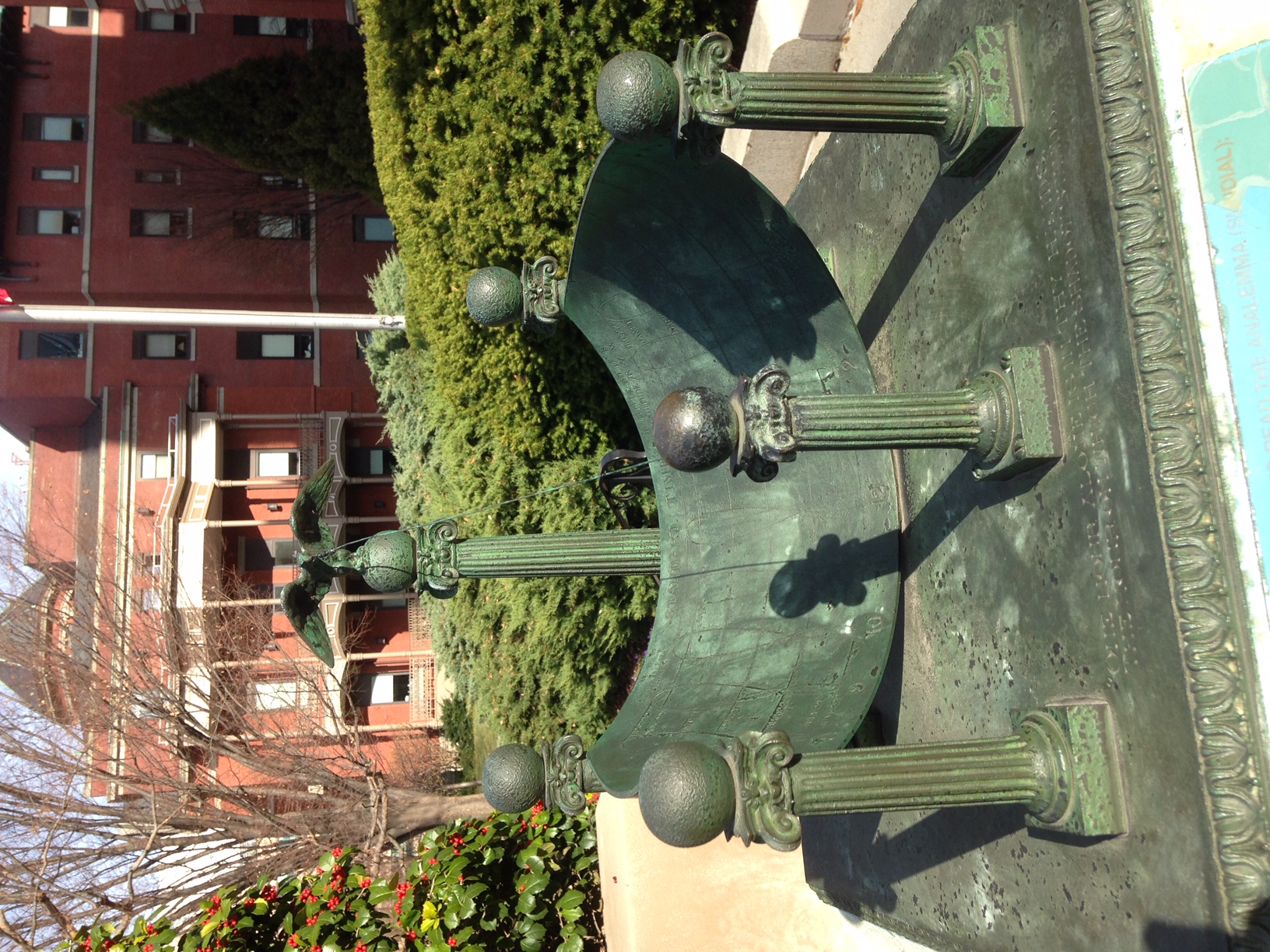 In 2015, Samantha Duckworth, a science and technology research specialist at the local library in Portland, Maine, received a peculiar request from a group of people with a peculiar interest. The North American Sundial Society, one of the world's largest associations dedicated to gnomonics — the study of the art and science of sundials — was planning its annual conference, set to be held in Portland the following year. For years, some members of the group had heard that a rare, turn-of-the-century sundial was hidden somewhere in the city, and they wondered now if Duckworth could help track it down in time for their big event. 
The only problem, however, was that the lone detail to support the sundial's location came from the device's own creator, a long-dead inventor named Albert Cushing Crehore, who had briefly mentioned in an autobiography written over 50 years ago that a model had been sent there another 50 years before.  
Despite the challenging lack of information, Duckworth agreed, commencing a year-long mission to track down the obscure device. She scoured books and articles about Crehore, an electrical engineer and atomic physicist who was said to have created six such dials based on a patent from 1905. She also called local garden societies and antique dealers, wondering if the dial's unique, decorative design — far more elaborate than your usual sundial, featuring ornate columns, an elegantly curved plate, and a miniature eagle — had found its way into private hands. "I really thought I could get in touch with a few people and get the answer right away," Duckworth said in an interview in 2016. "I did not think it would turn into this lengthy quest." 
As one of the oldest mechanisms for timekeeping in human history, sundials represent an early human attempt to impose order on our surrounding environment, to measure the passing of time as it was perceived through earth's orbit around the sun.
That such time and effort would be dedicated to uncovering an obscure sundial from a (today at least) largely unknown inventor might seem strange, even to the most committed technology buffs. And yet sundials occupy a special place in the history of innovation and science: as one of the oldest mechanisms for timekeeping in human history, they represent an early human attempt to impose order on our surrounding environment, to measure the passing of time as it was perceived through earth's orbit around the sun. While it's hard to say when the sundial was invented — humans have been using shadows to track the sun likely since the dawn of civilization — the first known sundials emerged as early as 1500 BC, in Babylonia, and were independently invented in many other civilizations across the globe, from China to ancient Greece.  
The beauty of sundials lies in their elegant simplicity: take a base plate, called the dial, and attach to it the base of a stick or pointer, called the gnomon. As the sun moves across the sky, the gnomon casts its shadow along the surface of the plate, which can be marked at specific intervals to indicate the time of day. In their most rudimentary form, these "shadow clocks," as they're sometimes called, had an immeasurable impact on human life: by enabling more precise timekeeping, they helped organize society, allowing us to more efficiently grow and track our food, calculate our travels, and regulate our workday.  
Sundials also grew more sophisticated as time progressed, taking on a multitude of shapes, sizes, and designs. Most early sundials, of the basic plate-and-gnomon variety, approximated local solar time, tracking the sun's changing azimuth and altitude across a specific geographic place (as such, the accuracy of any sundial depends on the latitude and longitude calculations made by its designer, who has to take into account where the sundial will be located). Later sundials grew more complex, incorporating adjustable parts or specially designed features that could correct for variations in the sun's orbit, resulting in a more accurate reading of standard time. An often-repeated detail about the utility of sundials is that they continued to be relied upon even after the invention of mechanical clocks, which needed to be regularly reset and maintained.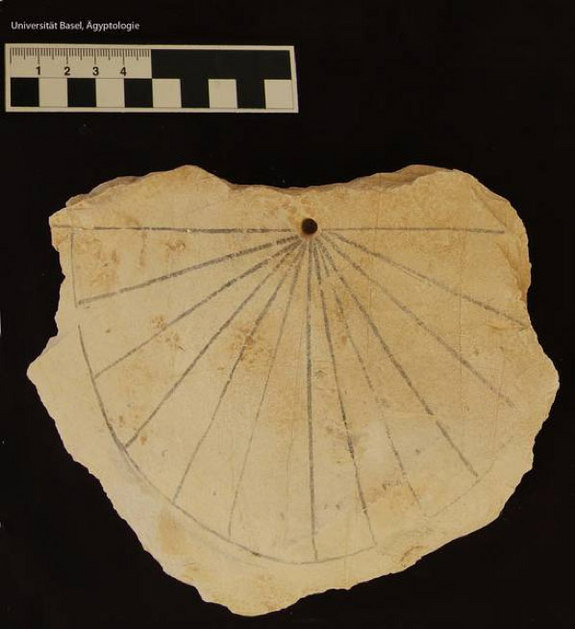 Today, sundials no longer factor into our everyday lives as they once did, but they are still all around us, often hidden in plain sight. Decorative sundials adorn parks, gardens, and other public spaces, and are sometimes even incorporated in modern urban design (Taipei 101, the first record-setting skyscraper of the 21st century, for example, is the towing gnomon in a huge horizontal sundial that uses an adjoining park as its dial plate). Indeed, their importance to the evolution of human society, as well as the unique features and histories of individual designs, continues to make sundials the subjects of fascination among historians and engineers, and particularly among the dozens of societies and associations, like the NASS, dedicated to gnomonics.  
Among the huge variety of sundials still in existence, Crehore's may not be the most notable model, but a few key details about it help illustrate what makes this ancient technology so engrossing. Patented in 1905, the creation is a mere youth compared to most sundials, and yet it is a relatively complex one: it features a partially cylindrical dial, rather than a flat one, surrounded by six ornate columns, four of which support it at the corners. The cylinder is titled up by the angle of the site's latitude, and a thin wire gnomon stretches from the mouth of an eagle perched on a north pillar to another pillar at the south. On a sunny day, a small brass bead in the middle of the wire — the nodus — travels across the plate, marking the time.  
Today, sundials no longer factor into our everyday lives as they once did, but they are still all around us, often hidden in plain sight.
Another unique feature of Crehore's dial are its hour markers, which are represented as analemmas rather than the straight north-south lines found on traditional models. These figure 8s, positioned along the curved surface of the plate, help compensate for the sun's irregular timekeeping throughout the year, allowing the reader to tell the civil hour (or clock hour) without needing to make any calculations or corrections, as required by many earlier sundials. One member of the North American Sundial Society calls Crehore's sundial a "gem." 
Like all great inventions, the background of the sundial's creator — Albert Cushing Crehore — also adds to the mystique. Born in 1868 in Cleveland, Ohio, Crehore was hailed as "the most brilliant electrical engineer in America at the turn of the century," according to his obituary 91 years later. A Yale graduate, he studied electrical engineering at Johns Hopkins and Cornell, where he began advocating for Nicola Tesla's alternating current (AC), a competitor of Thomas Edison's direct current (DC). He went on to teach at Dartmouth, where, alongside friend and fellow inventor George Owen Squier, he became a prolific inventor of electromagnetic devices, among them the "Polarizing Photo-chronograph"— a magneto-optical streak camera used for measuring the speed and range of projectiles shot from cannons. Crehore also invented sinewave telegraphy, the standard for telegraphic systems using alternating current.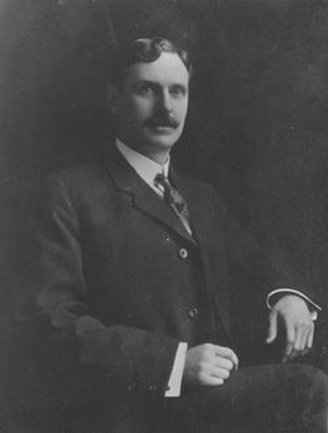 All throughout his work in electrical engineering, however, Crehore also harbored a deep interest in a much older technology: sundials. His fascination with the ancient devices began in high school, when he started experimenting with various gnomon and plate designs. Recounting these experiences in his 1944 autobiography, Crehore wondered "what sort of a path the shadow of a point would make, cast by sun-light upon an horizontal plane surface. So an horizontal drawing board was rigged up in the back yard south of our house, where the sun shone unobstructed all day, and a sharp pointed stick erected perpendicular to the board to cast the shadow." 
Measuring the shadow at 10 to 15 minute intervals as it moved across the board, Crehore noted that it did not follow a straight line, but instead a "hyberbola," with the distances between the points being the shortest near noon, and "longer and longer both before and after noon." Taking into account seasonal changes in the sun's trajectory, Crehore calculated that these curves would be downward convex during winter months, upward during summer ones, and remain straight during the two equinoxes, when the sun is directly above the equator. He concluded that the best shape to plot these on was not a flat plate but a cylindrical one, which made the spacing of the hour curves more symmetrical on either side of the equator. Ultimately, Crehore wrote that the advantage of this design was a dial that would tell standard time "without the necessity of making any corrections." 
Ultimately, Crehore wrote that the advantage of his design was a dial that would tell standard time "without the necessity of making any corrections." 
Crehore would later incorporate these early lessons into his own creations. After establishing a name for himself in electrical engineering, he moved to Yonkers, New York, where he opened a lab and began patenting sundial designs. In his autobiography, Crehore wrote that the first model was erected there in Yonkers, but that he sent at least five more to other locations across the U.S., including Ohio State University in Columbus, Northwestern University in Illinois, and Johns Hopkins Hospital in Baltimore, where a model still stands to this day on a terrace outside the campus' central administrative building. Each shared the same unique design, including the cylindrical plate, the wire gnomon, and the analemmas. (In his 1905 patent, Crehore noted that the design was not only aesthetic but instructional, "for when the dial is understood in all its features, the observer has presented to him in concise form the whole story of the sun's apparent motion in the heavens during one year.")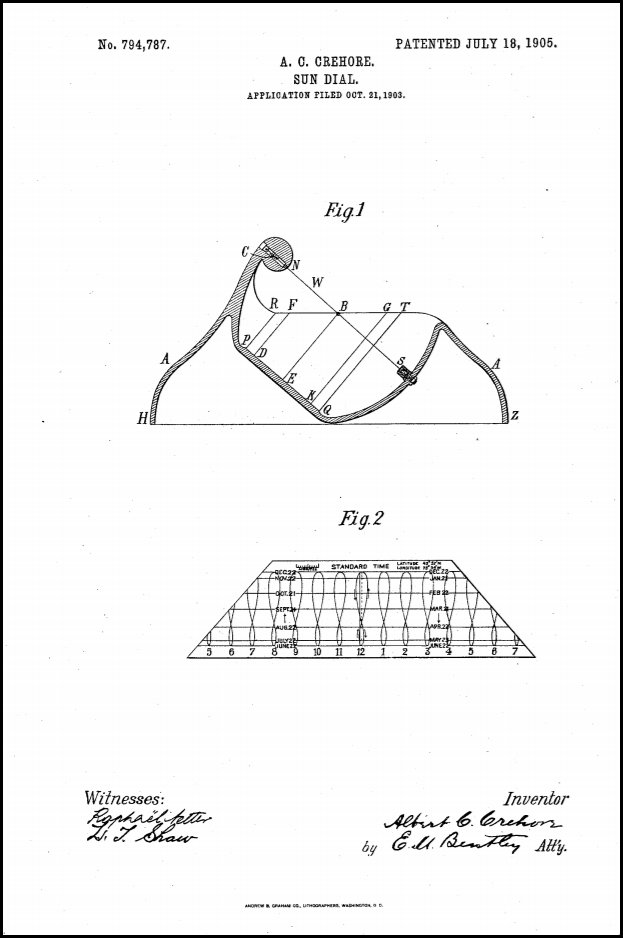 Today, only three of Crehore's sundials remain, according to NASS's registry (and only one — the Johns Hopkins dial — remains on public display). Their rarity — and, indeed, odd beauty — is partly what spurred the organization's members on in their search in 2015, undertaken in hopes of recovering a fourth Crehore dial. And yet despite their extensive investigations — Duckworth and NASS members looked far and wide for the dial, even inquiring about it in nearby towns — it never turned up. 
Like his sundial, Crehore's own contribution to the field of science and technology would eventually be relegated to the margins of history. Though he continued to dabble in gnomonics throughout his life, around 1911 his focus shifted to atomic theory, and here his knack for fettering out features of the natural world wavered. Crehore developed an electromagnetic theory of the atom that mistakenly held that electrons were part of the nucleus itself, rather than independent particles orbiting around it, as the quantum theory of Niels Bohr and Albert Einstein held. He spent the rest of his long life arguing in favor of this theory and against figures like Bohr and Einstein, effectively alienating himself from the wider scientific community.  
But Crehore's atomic work, like his sundial, ultimately attracted the attention — and enduring affection — of another group, this one too with a peculiar interest. Crehore's ideas about the atom led him to theorize about the nature of gravity, which he claimed arose via the speed and movement of particles within a charged electric field; the possibility inspired a host of science-fiction writers, including figures like Richard Shaver, who used Crehore's work to support his own theories about anti-gravity drives and aging.
By the 1940s, Crehore was being heralded as "an icon" by members of the Fortean Society, an early 20th-century group named after the writer Charles Fort that dedicated itself to scientific, medical and anatomical anomalies.